On the run....
Not much time to blog this morning. I had to drive hubby into work today so I could do my running around. I've already had my coffee (mmm....I love you, Tim Horton, and your Timbits, too.....wow, that sounds dirty, I should probably detete this line....oh,nevermind). My
corn on the cob plastic bag holder
sold for a big whoppin' $7.39 CAD (that's $6.00 USD). Not exactly a fortune, but more than I expected. Heck, I was surprised it sold at all. And, I got 3 emails from people wanting me to list another one. We'll see.
Also, my latest sweater...the one I keep saying I will show off and never do (I'm such a tease)....Ok, here it is. Keep in mind that I have not hidden the ends yet, and there are a LOT.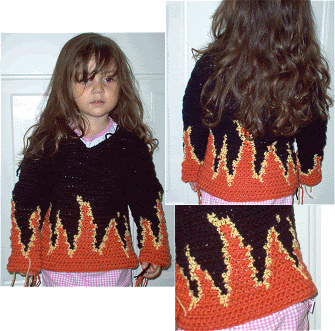 It was actually going to be a jack-o-lantern (which I will still make) but at the last minute, I looked at the colors I had and thought "Oooh, flames!" So, I made flames.
You'll have to excuse the disgruntled look on my model.....mean old Mommy made her miss 30 seconds of Dora the Explorer to take these pictures. Heavens to Betsy.
It's also the last day of school for my oldest today, so I will finally have her home full time to do all of my cleaning for me.....what, isn't that why we have kids? That's what my mom told me, anyway.
Ok, must toddle off to do my errands (I will not buy yarn, I will not buy yarn, I will not......ooooh, is that a new color?).