Show and Tell
I have nothing, nothing at all, crochet related to discuss. So, I'll show off a few random pictures!
First is the horrific and evil place called my basement. Honestly, this yard sale pricing would be taking a lot longer if it were not for the helpful little (HUGE!) spiders handing me things as I go. And one of them that I saw....I don't know, but I'm not sure it was, ya know, of this earth. It only had 4 legs and the body looked like that of a toad. But they were not toad legs, they were spider legs. And I think it winked at me. But really, can we cut it with the spiders now? I can't handle anymore. Anyway, back to the basement. Remember the picture I showed before? Let's call that the "before" shot. Not that it makes much difference...



...since the after looks just like it! Ack! I am so screwed. My house is a freakin' disaster and we have company coming to stay over on friday night! Hubby is doing the fireworks show for our city, and it's his 1st show, so some of the inlaws are driving in to see it. And this is my living room until Saturday morning: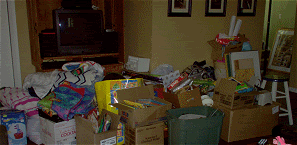 If you see anything you want, just let me know, I'll put it aside and you can come and get it on Saturday.
Now on to more pleasant things...my four-legged babies. Well, not so baby anymore. We already knew the dog was huge, but we thought the cat was about normal sized (it's out first cat ever). The vet just told me last week that he is a "bruiser." In other words, she said in the people world, he would be the equivilant of a linebacker. Now hubby is all proud cuz he has a big tough kitty.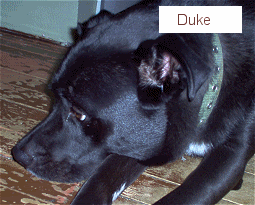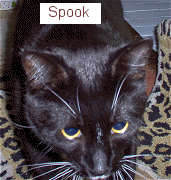 Yes, they have ryhming names, and their colors match, too! And we didn't even plan it that way. We had Duke for about 4 years when we saw Spook in the pet store (he's from the SPCA, though, we only save animals who need homes). We don't even like cats, but we loved him as soon as we saw him. It was odd, like he somehow brainwashed us (can cats do that?). Anyway, now we are ever so stylish with our color coordinated pets.
And last, but for sure the cutest, is my little nephew.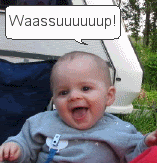 I don't get to see him much, they live in another province, but OH MY GOD he is the cutest thing I have ever seen. Um. Besides my own kids, of course.
Ok, I have stalled long enough. I just fisished my last drop of coffee. I have to go back in the basement now. Ok, I'm going.....yup....on my way.... Off to the basement....That's what I'm doing. Ok.....If you don't hear from me in a few days, call 911.