I am FINALLY done my crazy work weekend. I now get one whole day off before I go back to work again. But, on the plus side, we leave for Maine on Thursday. My husband got some notion in his head this week that he wanted to go whale watching. Whale watching. That man and his last minute ideas. Oh well, I'll get out of the house, and I can do some US style grocery shopping. Honestly, you Americans know good food. Try to find sausage gravy in Canada...I dare ya.
I really haven't crocheted anything this weekend. I've mostly been passing out when I get home from work. Even tonight, I'm just to tired. Well, I did start a new project with some yarn I want to use up, but I'm not totally sure what it will be yet. Maybe a cardigan, maybe a shrug, we'll see. I'll post a pic when I get further along. I also bought this new book.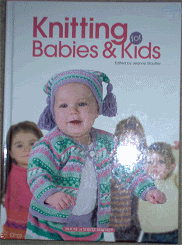 I know, it's knitting, but I love all the pictures and ideas. I can't knit more than a rectangle, but some of the patterns can be converted to crochet.
Short post tonight, Family Guy comes on in a few minutes. Toodles!