Ok, I'm Still Alive
So my house didn't crash to the ground. Whatever. It could have. The shaking wasn't as bad today. And I had to find something to do while cowering in fear outside, so I mowed some of the yard. It's an acre of grass that needs mowing, so it's not like I finished it, but I got some done. So that's one thing good about the stupid stupid road work.
And, since this is my first weekday evening off for, oh.....FOREVER....I decided I really didn't feel like spending the night making things to sell. I felt like being greedy. And my hands hurt. Long story, old cashier injuries. Once in a while I have to have what hubby calls a "forced crochet break". And how do we distract Tara's attention away from yarn? Shiny shiny pretty beads. So I beaded. I made a dragonfly book thong for my oldest daughter, sized to fit her Lemony Snicket books, and a coffee bean book thong for me, sized to fit my trashy romance novels.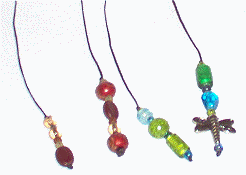 And guess what else I beaded? Oooh, it's so pretty. I almost can't wait to go on the plane (what? who said that?), just so I can wear this in public.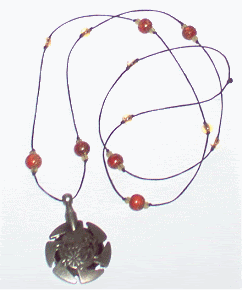 And NONE OF IT IS FOR SALE!!!