Updates
I finally finished my latest sweater.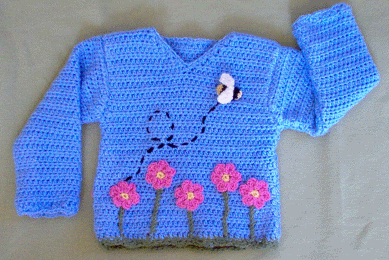 It took me much longer than it should have. Partly due to the mind melting heat that has kept me more or less immobile. Partly because I have been getting twice as many shifts at work due to everyone else going on holidays. Partly due to my being totally lazy on a 20 hour driving trip. Dumb. I barely even touched a hook the whole time. Dumb dumb dumb. Oh well, I'll get back on track now. Hopefully. I crochet each weekday while watching a rerun of Quincy, so I will be starting back at that today. The little one also knows that Quincy time is "quiet time" so that helps. It also means peanut butter and jam toast time.
So, now onto my next project. Since I am not really sure yet what it will be, I will probably start and yank out at least 3-5 projects before settling on one. I really should be making something to sell, but my friend Kim at work is having a baby and I have the perfect yarn to make her a blankie. I set up a poll on the side so ya'll can help me decide.
Speaking of polls...there was a clear winner in the last poll "What is your favorite crochet stitch?"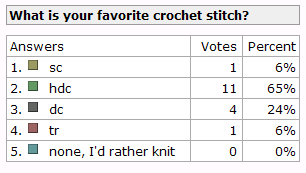 I admit, I voted for the hdc as well, but since learning about the extended single crochet, I may have to change my mind.
As for non-crochet related news....I have finally given up trying to fight my family about flying to Edmonton. My oldest daughter is there right now and they have been harassing me to fly there with my youngest for the last week of the oldest's trip. I have been resisting because 1. work doesn't just go away, they have to actually give me the time off...during holidays, when everyone else requested time off in April and 2. I HATE TO FLY!!!! Omg ya'll, I'm serious. I can't handle it again. I end up flying at least twice a year, so it's not like I am a newbie at it, but I spend every flight thinking I am going to DIE any minute! I swore in the past that I would only get back on a plane for weddings and (god forbid) funerals. Well, not that there is a funeral planned, but my sister just told me that she has something wrong with her. Her whole left side went numb the other night and they rushed her to the hospital. They did some rush tests and ruled out a stroke or blot clot in the brain. It could still be a ton of other things, though. MS, they are thinking. Whatever it is, I need to go there now. Screw work. She has somehow ended up being the responsible one in the family. My mom, a big business owner, hired my sister to run her office. It has evolved to the point where she runs my mom's whole life. I mean really, she can't even pay her own bills anymore. And when my daughter visits there, they call my sister her secretary. She keeps track of where she is staying and for how long and who's driving her where. Not an easy task with my soap opera family. PLUS, her and her husband own a lube shop with my dad that is still new and needs a lot of time put into it. AND she has 2 small kids, one that is in desperate need of the Supernanny and another that is less than a year old. And the little one was a really hard pregnancy and was born a preemie. Gosh, I wonder if STRESS might have anything to do with her problems! So, I am going to go there and take her kids away and send her to the mall with her friends. I will beat off my mom and dad and her husband with a big stick, if I have to.
Since I am speaking of my sisters, Wendy and Jodie, I just want to show them off. I can do that here because they have zero interest in crazy things like crochet blogs and they will never know I am saying nice things about them. They can never know that. It would upset the balance of nature.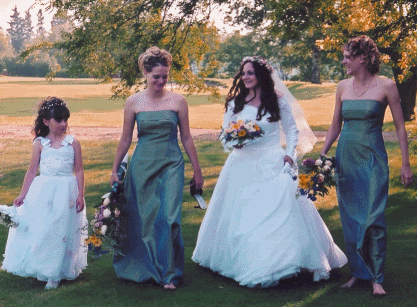 Aren't they pretty? They are the 2 bridesmaids. I didn't have a maid of honor because there was no way I could pick one of them over the other. I couldn't even go off of age, since we were all born together (yes, triplets). The little one is my oldest girl, but she isn't that little anymore (sigh).
Ok, enough rambling. Quincy starts soon. Gotta go make toast.