What I Did on My Summer Vacation ~ by Tara
Oh, the places I have been...the people I have seen...the yarn I have fondled. Well, since Thursday, anyway. Actually, we left the house at about 10:30 PM on Wednesday night, after I finished work. It was a very long night. We drove as far as Montreal and then stopped just outside the city for a rest. (Hint to anyone who hates Montreal traffic: 3 AM has very few cars on the roads. It was a breeze. ) We stopped in the parking lot of a St. Hubert restaurant. I'm pretty sure we were not allowed to park there, but all the signs were in french, so I have no idea.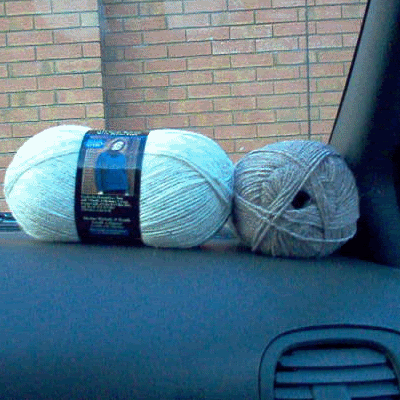 Parking lot we slept in and my new yarn.
After very little sleep, we were on the road again. It was a long long drive to Maine. Maine, I love ya, but could you please fix up your roads a little? The northern ones, especially. They were a bit scary. And crumbling. But your drivers are very friendly. And I had my new yarn to fondle.
We finally got to Freeport, Maine where our campground was. I had no
idea
how much
shopping
there was to do there! It's factory outlet stores as far as the eye could see! But, we had to set up the campsite, first. Priorities and all (stupid priorities). Our site was beautiful, with a great view of the ocean. Here are a few views from our site: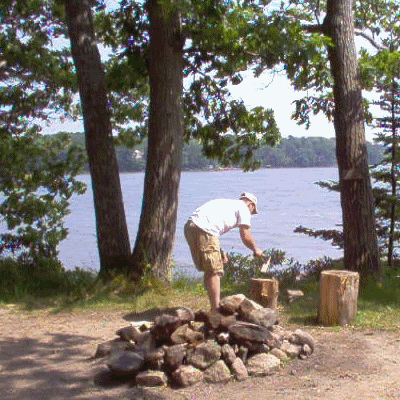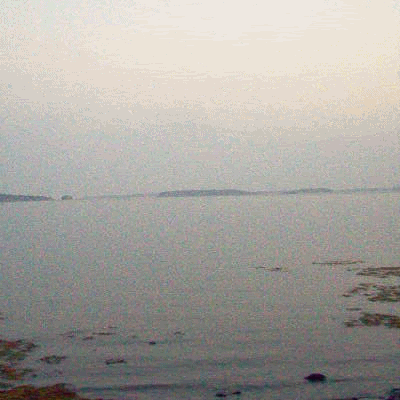 The weather was perfect! Thank you, Maine, for your perfect weather! It was such a releif to get away from the hot and humid weather we are having here in Ontario. But it wasn't cold. Not at all. In fact, the nights were so warm that we didn't even use out sleeping bags. However, after our 1st night's sleep, we discovered, painfully, that our air mattress had a leak. Ugh. We spent half the night re-inflating it. And our air pump sounds supiciously like squeaky bed hinges. I can only imagine what our fellow campers were thinking. We patched up the hole later.
I am always up earlier than everyone else, so of course it was my job to get breakfast ready. Camping is just not camping without a really really bad cup of coffee. And sausages. Overcooked sasuages. Mmmmm. Yummy.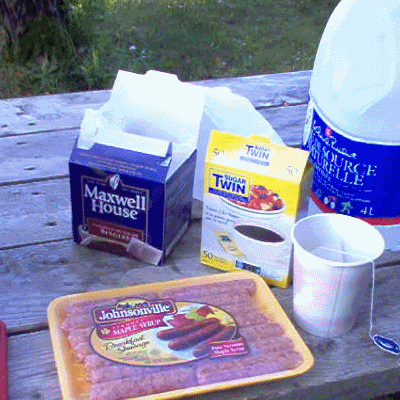 Part of the deal of my agreeing to this trip was that I could crochet while there (usually I have to promise to leave the hooks at home). And I did crochet....kinda. See that loop (pics below)? That was the start of a poncho. Then, after about 4 rounds, I though to myself "Dear God,
puhLEASE
not another poncho!" So I yanked it apart. After that I pretty much just played around. So did my new assistant. Hey, we gotta start them early. Then hubby realized he forgot to bring any rope for a clothesline. (Insert superhero music here) Crochet to the rescue! I whipped up a pretty sage green chain to act as our pretty pretty clothesline.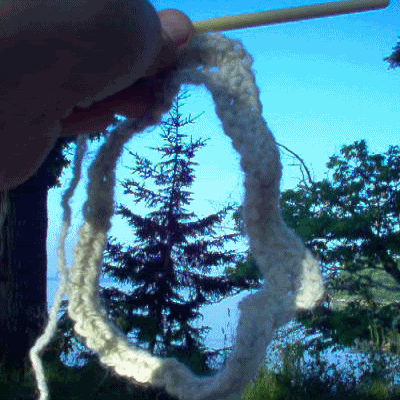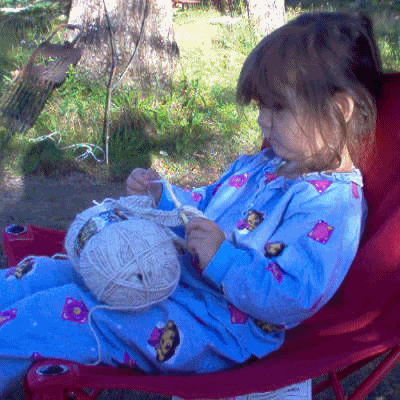 But, we did not just spend all of our time at the campsite. Noooooo. Not when there were so many stores. And not when I married a guy that likes to shop as much as I do. And not when sitting and staring at the ocean and drinking bad coffee is just a little bit too boring for a little 3 year old tazmanian devil with no "off" button. So we went shopping. We went to all the outlets, but the only thing we ended up buying was 2 new pairs of sunglasses (his and hers) at
L.L. Bean
. Great store, by the way. We could use one here in Canada. Canada, please.....L.L. Bean. Look into it.
Then (and here is the best part) we went a bit further north of Freeport to a town called Bath. Why? Why, because, it is the home of
Halcyon Yarn
. And because I have a very wonderful and tolerant husband who will drive way out of the way so I can fondle the
fancy
yarns. I would have taken pictures, but I think that may have tried his patience a little too much. I never bought any yarn, though. It was all so beautiful, I just couldn't decide. But I am on the mailing list. And I didn't walk out empty handed. I got a great book called The Crochet Stitch Bible.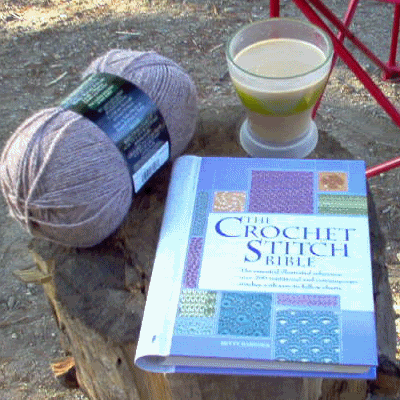 And it really is. Ya know, in all the billions (give or take a few) of patterns I have read, I have never even heard of the
extended single crochet
. Why? Why have I not seen this before? Has it been a big secret? Am I going to get kicked out of the club now for revealing it in this public forum? Oh, I also bought a yarn pendant cutter. Well, I thought it was. Turns out I grabbed a thread pendant cutter by mistake. Now I'm not quite sure what to do with it.
After hubby and child endured the yarn bonanza, I suggested the beach. We went for a quick dip in the Atlantic, a 1st for all of us. Then we headed back to the campsite.
Saturday we went into Portland and looked around at the Old Port area. If you have gobs of money and are redecorating your house, go there. There are some amazing shops. You will never look at the Home Depot with any respect again. Then we went into South Portland to do some regular shopping. By "regular" I mean Target, Old Navy, whatever mall we come across....etc. That mall happened to be the Maine Mall. Apparently the largest mall in Maine. If I hadn't grown up wandering the halls of West Edmonton Mall, I might be more impressed, but it was still pretty good. I bought a new
Lynn Kurlynd
book at the book store and hubby got himself a Boston hat (he really liked Boston when we were there on our last trip). At the target, hubby got a great pair of sandals that have little gel pads in the heels. Great idea. Wish they made girl shoes that way. But, really, screw comfort, our shoes are pretty. Oh, and then I went to
A.C.Moore
. We don't have those in Canada. It's basically a Michael's, but I liked the yarn selection more. I even got a 1 pounder of some discount yarn that is a shade of white-grey I haven't seen before. And a yarn pendant cutter. For real, this time. Then, when leaving the South Portland area, guess what we found! No, really, guess......give up? A Tim Horton's!! I swear it on my yarn stash! It's almost exactly the same, except that if you order a large, you get an extra large, and they take debit AND credit cards. But all the cars in the drive thru were from Canada, so it was just like being at home. I missed you, Tim Horton, and your Timbits, too!
Then we went and did our USA grocery shopping trip.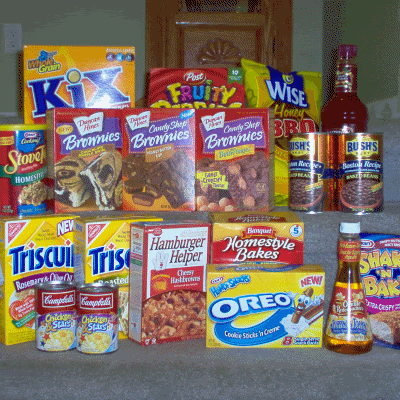 I know, some of those brand names are available in Canada, but the variations of flavors usually are not. I don't know why. It's not like it wouldn't sell here. What the heck does Canada have against chicken and stars soup, anyway?
For our last night at the campground, we had to move to a different site. The ocean view paradise was previously reserved for the Saturday night, so they moved us across the road. Our new view was not of the ocean, but rather of this: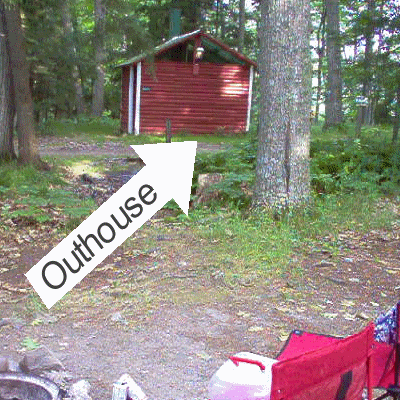 Nice. And the new people pilfered my pretty pretty crocheted clothesline.
Sunday was all about the drive home. I would describe it in detail, but living it was tedious enough. I will show you, however, the coolest coffee shop design I have ever seen (photos taken from a moving minivan):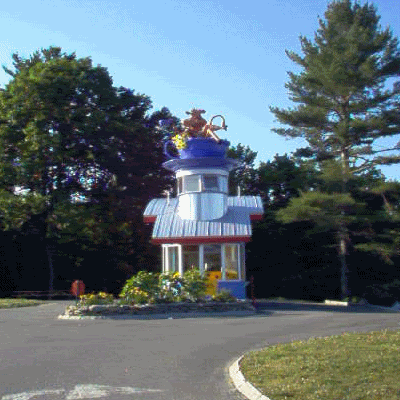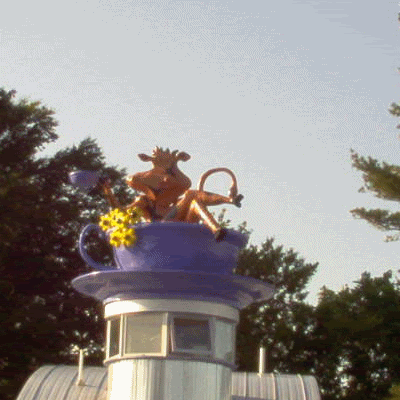 Click of bigger view!
Yes, that's a cow sitting in a coffee cup. And one more photo, even though I am breaking my "no spider" promise.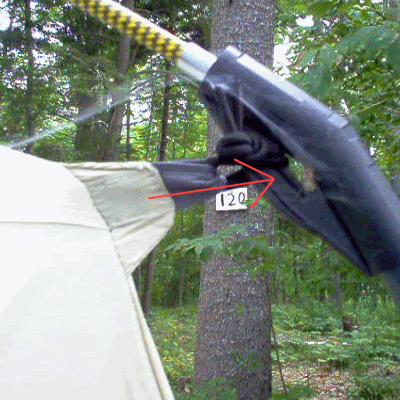 And that about does it. There would have been a great picture of a guy walking in front of the L.L. Bean wearing super super short spandex shorts, but that was about the time the batteries on my camera decided to give up the ghost. Sorry. I'll make it up to ya'll someday.
And that was My Summer Vacation.....by Tara.