Crashes, Kubasa, Kitchens and More!
Yes, I was in a crash. To be more accurate, I was crashed into. Friday night when I was leaving work. The city had blocked off the end of a dark street with sawhorses, and there was no prior warning. So, when the guy in front of me noticed, I politely stopped far enough back so that he could do a nice U-turn and carry on. They guy behind me, however, decided he really really needed to know what time the store was open till....while driving full speed down the road....right into me. Bastard. And it was his girlfriend's car, who is now trying to convince her insurance that it was her driving (not if I have anything to say about it) and the cops won't do a single thing, not even a ticket, and I am just so flippin' MAD about the whole thing that I will stop talking about it now.....but I'm OK. My eyes hurt on Saturday, due to the rattlin' around inside my skull, but I am otherwise fine. My back bumper is trash, but it did it's job well.
Saturday was Kubasa lunch day in Ottawa with the in-laws. We took the oppurtunity to go to the Home Depot and sit down (again) with a kitchen planner to go over our plan. Thanks, Bob! This will be our fifth (an final, cross your fingers) plan. It has gotten smaller and smaller each time, but that's good. I hate crowded rooms. And I need my kitchen done. Soon. Very soon. I may have a nervous breakdown. I can't wash dishes in a single sided sink anymore. I need a big sink. And a dishwasher. And floors that are less than 100 years old. For reals, they are the original schoolhouse floors, from 1909. Not quite, but almost 100 years old. And uuuuuuugly.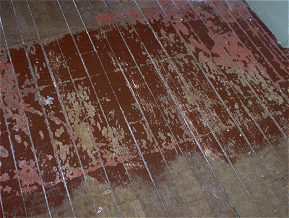 A previous owner decided to strip the floors. I am assuming with the intention of refinishing them. But they never did. We live in the Ottawa Valley. It's very humid here. When it gets humid outside, the kitchen floor tells a story. As in every single thing that has spilled on it since 1909 is then visable. Ew. But, we also finally found the flooring we want for the main floor of the house, too. And at half the price of anywhere else. Yay. I am starting to envision my house as....well....nice. Hopefully.
Speaking of my house....my dad got me hooked on playing with
Google Maps
. Here's my house: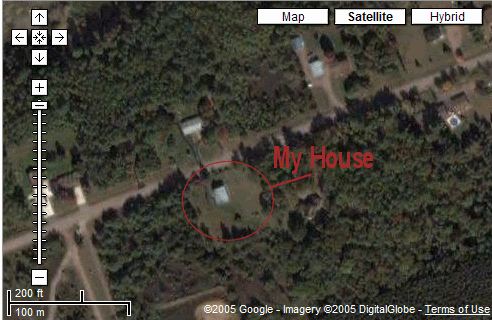 Cool, huh? I've been looking up every place I ever lived, worked or went to school. Gosh, I'm ever so much fun. No wonder I have so many friends.
Sunday was supposed to be a cleaning day. Ya, sure. I had a small delayed emotional reaction to Friday's trauma and spent most of the day in bed reading. I was up and about in time to go get donair subs for dinner. I'm such a good housewife.
Monday was supposed to be a replacement cleaning day. Ya, that worked out. I woke up with a killer headache and stayed in bed till noon. When I eventually got up, hubby wanted to go shopping. Yes, I married a man who loves to shop. Na na na na boo boo. And it's usually stuff for me he wants to buy. He will drive for 2 hours if there is a jacket in a store that he thinks will look nice on me. What a guy. So, we went shopping, but only 45 minutes away. Liquidation World. How can a store with that name be bad? We got pretty pretty new amber colored glasses, so we can replace our "007" movies collection glasses from the video store. Aww. Shucks.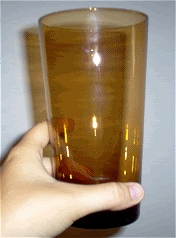 And then I made a delicious meal of Kentucky style fried chicken, along with some wonderful salads and french fries with gravy....Ok, fine, I bought it......I can cook, I swear, I just didn't feel like, Ok?
So, my house is a mess, I spent too much money and I have no time before I go away next week to get anything done. But at least I crocheted. I made another poncho. I like it. It's cute. Not ready to list on Ebay yet, but soon.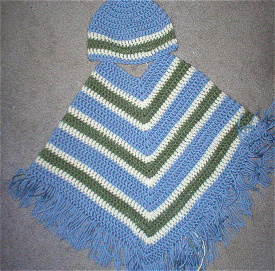 I haven't had a chance to read all the blogs I frequent yet, but I'll get to it soon. Probably while on hold with my insurance company, today.