Crochet Wednesday
I know, it's supposed to be called Work in Progress Wednesday. I know. And I do have a few WIPs. I don't however, have fully charged batteries for my camera. But I will still talk crochet.
While sitting at my mother's personal little trailer park last week, I decided to crochet something for my only neice. I have determined the I, not my sister, will be her favorite auntie. And what better way to show your love to a 3 year old with an attitude than to make her something special from your heart. Ya, right. So, I took her to the nearest Walmart and let her pick out her yarn. She choose a purple shade of Bernat Soft Boucle. I am so sick of boucle, lately. So, I sat at my mom's trailer paradise and crocheted. It's not like I was going to go swimming. It was only about 20 degrees celcius. And I like to crochet. Yes, I may do it all the time, but why can't it be a vacation thing, too? Here it is in progress: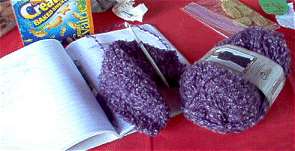 Here is the finished product. Can't you tell just how much she loves it? I'm sure that her lovely sneer is really just a reflection of her appreciation for her favorite auntie and the work that was put into creating this one of a kind garment for her. I'm just sure.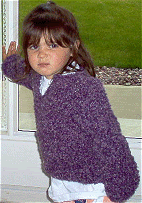 And just for reference sake, this is where most of the crocheting was done.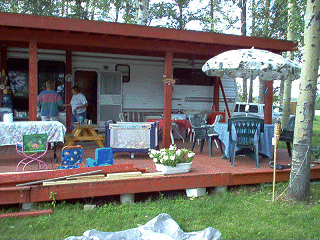 That is one of 7 trailers on a 13 acre riverfront property. Oh, and they have a sauna, too. They may be living in trailers, but they still need their comforts.
In other news, my husband is sick sick sick today. And what a big baby he is. But, he actually called in sick today. That's impressive, since he usually refuses to. So, he's upstairs whining in bed. Sigh.
Congrats to Drew!
I just got my first ROAK package ready to mail out! I'm so excited. Are ya'll wondering if it's for you? It might be!
I am working on a project, but I really don't know what it will be yet. Do you ever do that? Just start crocheting without any real idea of the finished product? I am using the cable stitch (according to the Crochet Stitch Bible) and a pretty shade of grey bulk yarn. I'll try to get a picture of it posted once my camera batteries are charged.