Plan B a.k.a. How to Deal
Before I say anything else, I would just like to point out that.....my cat is stupid.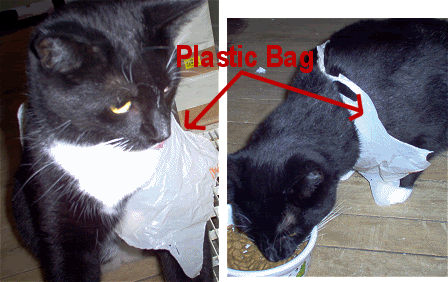 I keep reminding him about the whole curiousity killing the kitty, but he just won't listen.
Well, I'm off. Ok, not quite, but soon. I am working tonight, then tomorrow afternoon (my last shift), and then right after we will be driving to Ottawa. My flight leaves at 6 AM, and it's a 2 hour drive from here to the airport, so we are staying at hubby's aunt's house for the night and leaving from there. Less stress.
I've decided to be a big girl and suck it up and do my best on this flight. Of course, I say that every time I fly, but this time will be different, I can feel it. My mom has suggested drinking a lot, first....at 6 AM. Thanks Mom. That's some great motherly advice. Especially since I will be flying alone with your grandchild. I'm sure there is nothing wrong with my screaming in drunken hysterics while your 3 year old grandchild is virtually abandoned to the other passangers on the plane. I think I will go with plan B, but thanks, Mom.
Plan B
:
~Spend way too much money on new clothes for the flight, so I can feel like a
pretty
basketcase.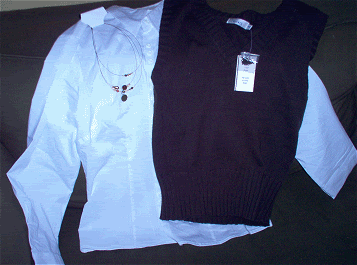 Done.
~Accesorize, of course.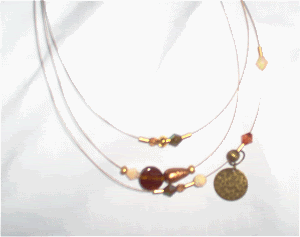 Done.
~Buy a new carry-on bag, specifically for carrying on the nessecities (yarn, hooks, trashy romance book, apple juice, smarties, chips, gum, coloring book and crayons, My Little Ponies, and, of course, Advil). Done (sorry, no photo). I bought it at work before I lost my discount. It's HUGE, too. I can carry lots of yarn.
~Start a project.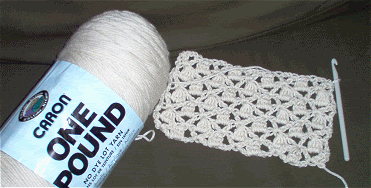 Done. I am pretty sure it will be a poncho, but we'll see. I'm using the lace clusters stitch (stitch #108 in The Crochet Stitch Bible) and the huge hunk of yarn I got while in Maine.
That's all I've got for plan B right now. I am striving to make myself proud and not whimper throughout the flight....again.
I'll be around here and there during my trip, since I will have some computer access. I will post all new photos when I get home. I can get most emails.
Also, I need to show ya'll something. These are the buttons on my new shirt. Notice how there are three buttons for each button space? Brilliant!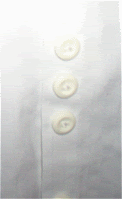 I don't know who thought of it, but it had to be a girl! I don't know how many blouses I have that I don't wear because of the "boob gap" on the front. And I am not what one would describe as "well endowed." The three buttons system is genius. I'm sure it's been around forever and I've just been too cheap to pay extra for it, but I did this time! Woohoo! Now I just need to make more money so I can pay for it! Woohoo!