Behold!
.... a WALL!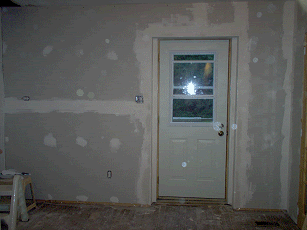 Well, almost. But much better than before. Remember this?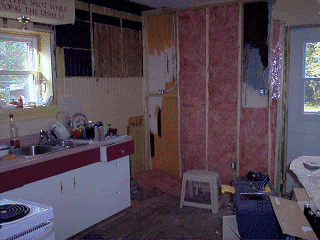 So, a bit better. Not that I can take any credit for it. Darling hubby is doing all of the building work. He has a hidden genius for things like drywalling and electrical work. Or at least it looks like genius to me. I haven't had any walls fall on me or electrical outlets explode, so I assume he is doing things right. I know he has all of the codes and regulations memorized, and he's a big fan of
Holmes on Homes
. I think he has nightmares that Mike Holmes will come into our house and pick apart everything he has done. And yell at him. Personally, I am so very impressed at what he knows about this kind of thing. I would have married him anyway, but it's ever so nice to find out how handy he actually is.
However, HE is the lucky one. Why? Because he hates to paint. HATES IT. Can't stand it. It makes him angry. Me? I L*O*V*E to paint! I don't care if it's a plain old wall and some white primer. It's a paintbrush in my hand! So, this past weekend I traded in my crochet hooks and yarn for a heatgun and a scraper. We are re-drywalling most of the kitchen, but keeping one wall original. It's old tongue and groove wood slats with about a BILLION layers of paint on them. Or at least there was. Till I scraped it off.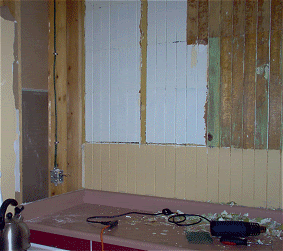 That's about 1/4 of the area I was scraping, folks

It took FOREVER. Then I had to sand it all (always sand with a respirator mask, folks!). And finally, I got to PAINT. Well, the primer. And just that one wall so far. But I LOVED it. I'm not showing anymore kitchen pictures until it's all done. Then I will have a big reveal, like on those decorating shows.
My hand is now on strike. It hurts. It's done. Stick a fork in it. Really, go ahead. It can't hurt any worse than it does now. I know my limits. I just ignored them. So, no crocheting today. As much as I want to. I am soooo very close to finishing that baby blanket for Kim. I only have a few more rounds of the edging to do. Maybe by tonight the throbbing will stop.
Today is also the first day of grade 6 for my oldest. Sigh. Now I just have to get the youngest one to use a damn toilet, or they'll never let her into school. And I need her to go to school next year.