Freebie Friday!
So, I was bored last night. So I made this.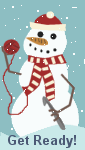 It's 85 pixels wide, great size for blog sidebars, if any of you want to use it. It doesn't do backflips or anything, but it's kinda cute.



I should have added this before, but I always forget that someone will ask me what I use to make graphics. I'm an old-fashioned kinda gal. I use Jasc Paint Shop Pro version 7.