Hats, Bitches and Bling
We went to the Remembrance ceremonies in Ottawa on Friday. It was cold. Cold=cold weather wear. As in hats, and scarves, and pretty pretty shawls. And, since the biggest bitch in the whole city (more on her later) pushed me out of the way so she could stand right in front of me, I didn't see much. Except hats. So I took pictures of them.
Don't worry. I wasn't snapping pics when it was time to be quiet and remember our heros. I couldn't see anything, but I was still respectful.
Unfortunately, I couldn't get too close to take pics without looking like a raving lunatic and having someone call for the cops, so I had to be sneaky. I would pretend to be admiring the building/statue/flags/politician/etc. directly behind them. The pretty pretty hats just happened to be in my shot. SO, excusing the poor quality, here are a few of the nice ones I saw.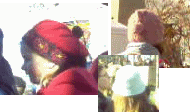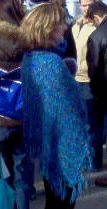 And of course, the cutest hat and scarf there: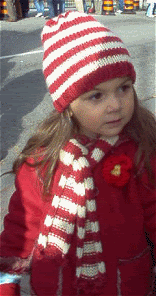 The cute kid underneath it doesn't hurt the effect, either.
But, whenever we see cute in this world, strange and ugly is not far behind.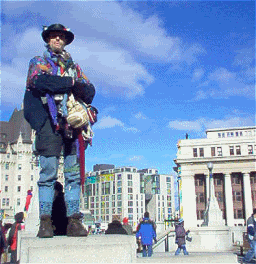 But I digress. I promised you a bitch story, didn't I? I can do one better. Bitch pictures!

"HI! I'm the big bitch that pushed Tara and her little 3 year old out of the way, because I am better then they are. I am richer and taller and I have snotty looking blond hair. But even that is not enough. I must stand with my chin resting on my knuckles so that I look richer and bitchier than all of you. That way, nobody will ever know that after I leave here, I will return to my trailer on the outskirts of town, where I will serve my 12 children Cheetos for dinner because my lazy husband won't stop playing X-box long enough to get a job! Shhh. Don't tell anyone."
I know. Catty. I don't care. She pissed me off. And her husband kept elbowing me in the head. I really hate people sometimes.
But, it wasn't all bad. I got to show off hubby and all his medals. He's a great peice of arm bling.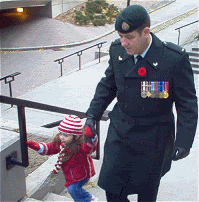 I notice something about all the military types there. They are very good at eyeballing each other's chests and quickly counting up medals, without seeming obvious. I wonder if they know that they are ALL doing it? But, I wasn't worried, since hubby had more than most there.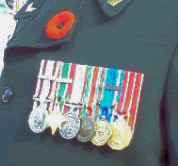 He has 6 (and a few commendations that are not showing). There were a few with 7, and and impressive vet with 9 or 10, but mostly 5 was the max. When I commented this to hubby, he said it isn't a contest. WhatEVER! If it isn't a contest, then why do they display them all? And why do they check out each other's racks? Hmmmm?
Overall, it was a fun day. A little chilly, but not too bad. And, on the way out, I saw the strangest thing. I took a pic.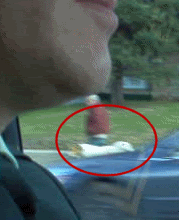 A car got in the way, but look....that dog is entirely white, with a brown head. If it was walking next to a white wall, it would look like a brown floating dog head.
Hey, I don't get out much, so sue me.