Anyone Left Standing?
Did ya'll make it? Are ya'll OK? I know Christmas can be bloody and messy, but I hope a few of you made it out alive.
Most of my inlaws were here.
I cooked for them. My first turkey. With the stuffing recipe passed down through generations on my mother's side. Keep in mind that these are the french in-laws. That have a
very different view of turkey dinners
. The 'all meat' view. And I changed the stuffing recipe a bit. I used garlic butter instead of regular. And it was good. Real good. Better than my mom's. But don't tell her.
We had a LOT of food. Since hubby isn't a big turkey fan, we also had a ham. We're eating turkey sandwiches and ham and eggs for the next month.
The kids were spoiled rotten. No, really. They were. If anyone of you out there have anything to do with the invention, construction or distribution of toys.....could ya stop? Before next Christmas, maybe? I'm out of room.
My youngest got the Dora the Explorer talking house. Great. It comes with a little Dora. Then she got some add-ons, like the van and the swimming pool. Each add-on comes with another little Dora.
The Doras are fighting.
I'm not kidding. She throws them across the room. When I tell her not to throw toys, shes informs me that it wasn't her. It was Dora. Yikes. I'm just waiting for them to organize and turn on us.
They have all the My Little Ponies needed to make a great calvary.
The oldest got a TV, a DVD and an MP3. Thankfully, we taught her to spell. But now we may never see her again.
I was spoiled, too. HUbby bought me way to much. At least his birthday is coming up, so I can WIN the 'I love you most cuz I got you the best present' game. Currently he's winning. I got a new watch, a cookie jar, a box of Toffeefee, a giant Toblerone, new socks and a big ass frying pan. (I actually wrote that on my llist. Big ass frying pan.)
My mom got me the Tide BUZZ Ultrasonic Stain Remover.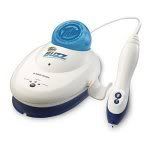 Tried it yet? You need to. I've been hunting down every stain in the house. I love it. I'll probably mention it. Often. Sorry.
So, now we are resting. The inlaws are gone. The kids will be occupied. And I have nothing more important to do than go blow my gift certificates on boxing week sales and make a big ass snowman.
I hope you and yours managed to survive. But brace yourself.....
There's still New Year's!