Elf Jokes
Freebie Friday is coming a day early! Yay!
I won't go into the details, but I have a little issue with my right arm. It's fine, but it hurts, and I may need surgery. But not a big one. I know. Very mysterious, am I not? But trust me. You do NOT want the details. In the meantime, I can't really raise my arm much, but I can use my little mousey and make cute little pictures.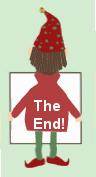 So, here's how it works. If you want random elf jokes for your sidebar (and who the heck doesn't?), just right click on the cute little joke telling elf, choose Properties and copy the ENTIRE url for it. Use that URL to place the picture in your sidebar.
Easy, yes? Don't change the size or anything. If it's too big, sorry. It's 86 pixels wide, so it should fit most sidebars. And the jokes will change on their own every day or 2.
NOTE* This will only work if you use my URL. If you change it to your own photo server, the joke won't change. You'll just get the same lame joke every darn day 'till Christmas. Don't worry about my bandwidth, I have oodles and oodles of it. I pay extra so I can do crap like this.
Oh, and just like the Christmas Spirit, the little elf buggers off after the holidays.