Mommy-in-Law
Ok, sure, she's still a mother-in-law. So she's not perfect. She thinks I stole her son and that I am too strict with my kids. She acts like we ignore her and never want her around, even though we have invited her over countless times. We can't stop by her house for just coffee. It has to be a big full meal, even if we told her we just ate. She thinks we are dirt poor and need every hand-me-down piece of furniture she can scrounge together from all of her neighbors. She only has caffine free Diet Coke in her fridge.....ugh.
But that's ok. That's all forgiven. All of it. Even the little pouty lip she gets when I dare to give the 3 year old a time out for biting her cousin. It's all OK. She can say and do whatever she wants.
Cuz she bought me YARN.
Not just yarn.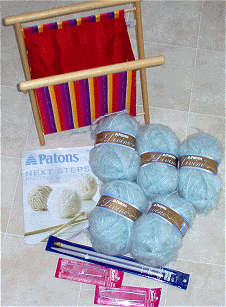 She got me everything needed to make the sweater on page 20 of
Patons Next Step
pattern book.



I got 5 balls of Patons Dive in Frosted green, a set of 10 mm needles and two 4 1/2 inch stitch holders. Oh, and a pretty little carrier for all of it. She actually forgot some yarn (five balls of Patons Shetland Chunky), but I won't tell her. And since she gave me a discount card for Lewiscraft, anyway, I can get the yarn I still need for cheap.
I love my Mommy-in-Law. She gets me.
I'm also working on a new knitting project. It's
The Poncho
free pattern from Coats and Clark. I'm about a third done. Which in itself is surprising. Since I have been crippled and feverish most of last week (I'm starting to feel a lot better, by the way). I just may actually finish this one. Or, I may have just jinxed myself. We shall see.