French Friday!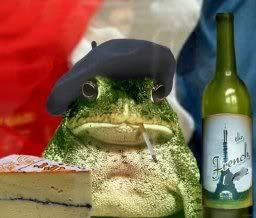 I've mentioned my inlaws before. I could search for the posts, but I haven't had enough coffee yet. But the main thing you need to know is....
They. Are. French.
At the risk of insulting french people, let me explain why this is an issue....
I'm. NOT. French.
I have nothing against the french. I really don't. The problem is, they all know french and english. Which is great. I envy them. But they expect ME to know french. Why? Because of all the french I needed growing up in Alberta? Yes, fine, now I can look across the river from main street where I live and SEE Quebec, but that's just the last few years.
I know a lot of ya'll think ALL Canadians can speak french. Do you think anyone that says "ya'll" in normal conversation speaks anything but english? I don't blame you. It's TV and movies. It's the way we are portrayed. Canadians are all backwoods hicks that live in cabins and pick their teeth with whittled down moose horns(antlers?)...or they are french. And in Montreal.
I've only been to Montreal once, and we just drove through at 3 AM on our way to Maine. It was dark.
The point is, we are NOT all french. But my inlaws feel I should be. Or at least try. It's not that I don't want to try, it's that I know I can't. I can't even say my own damn last name after 5 years. I took french class in school. I was OK with the written part. But as soon as I tried to speak it, it came out with a drawl. I got yelled at. The teacher thought I was poking fun. I can't do a British accent, either. Shouldn't someone yell at me for that?
So, now we are in a place where I occasionally have to deal with french . And it can be quite confusing.
Funny Tara Doesn't Know French Story Number One:
The first time hubby took to me to Ottawa, we were driving down the main highway while I read the street signs. Finally I looked at him and said" What the Hell is a 'Chemin'? (Che-min)
"A what?" he says. "A Chemin. That big sign up there said Chemin." After laughing for a bit, he informs me that 'Chemin' (pardon my accent, but it's more like Sha-man) is a word for Street.
This was even funnier when he told my inlaws about it. They all looked at each other and wondered what a twit my husband married.
Funny Tara Doesn't Know French Story Number Duex:
Just before Christmas, we were driving to my MIL's house. Now, I am starting to get used to seeing french signs up in Ottawa. I'm actually getting pretty OK at deciphering them. Maybe not word for word, but I can usually get the gist of it.
We were passing Canadian Tire, and the sign below the main sign had the weekly special on it. In french. It had me stumped. So I asked hubby "What the helll is a Pneus?" (Pe-NOOSE). He looked at me funny and asked "Are you being serious, or just being a smartass?" I assured him that I really am that french-stupid, so he told me it was 'Tire'. As in Canadian Tire. The big store where they sell tires. Well, how the hell should I know?! It's not like anyone ever buys tires there!
I imagine those stories are a lot funnier if you know french. At least that's what I gather, since all the french people that have heard them have laughed at me.
Anyway, the whole point to this post is that I am (secretly, so don't tell) trying to learn more french. I am looking up random french words on a daily basis, so I can maybe recognize a few once in a while. And maybe know what my inlaws are saying about me.
Today's word is: "ficher" (fee-shay)
Definition: (ranges from inf to slang) - to do, give, put, leave
Qu'est-ce qu'il fiche ? - What the heck is he doing?
Fiche-moi la paix ! - Leave me the hell alone! Shut up!
Il me fiche la migraine - He gives me a headache
Fiche-le sur la table/dans un tiroir - Stick it on the table/in a drawer
Fiche(-moi) le camp ! - Get lost!
Ça lui a fichu un coup - He was touched, That touched him
Je m'en fiche - I could care less, I don't give a damn
This word may come in handy. Stay tuned for more.
French words and definitions are courtesy of
http://french.about.com/
.
P.S. Don't forget to check out my tenant's blog,
Life According to Princess Grace!