Happy Thursday the 12th...or Saturday the 14th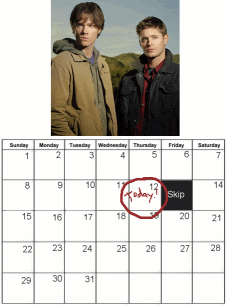 So.....
ya'll know what tomorrow is, don't you? You know, tomorrow. Tomorrow is Friday. Since today is only Thursday. Or possibly it's Saturday. But it's NOT Friday.

No. It isn't.

Stop arguing. It is not.

Because if this were Friday, it would also be the 13th.

Friday the 13th.

So, it's Thursday. Or possibly Saturday. Because if it were Friday, I would still be in bed. Hiding. And ya'll wouldn't be reading this, because you too, you little paraskevidekatriaphobic, would also be cowering in fear somewhere.

Don't deny it. I know I'm not the only one. There is an estimated 21 million paraskevidekatriaphobics in the US alone, and we all know the people are a lot loonier up here in Canada. So that adds up to....well....a lot more.

I don't think that anyone in a hockey mask is going to kill me tomorrow (or possibly yesterday), but it's still a scary day. Bad, bad things can happen. For example:

~You could get a hole in your sock
~Your dog could run away
~Your cat could run away
~Your dog could run away with your cat
~Your kids could run away (oh wait....)
~You car could break down
~On a deserted road
~In a blizzard
~With no Tim Horton's in walking distance
~You could get fired
~You could get stuck in traffic
~You could get a speeding ticket
~You could totally mess up your latest crochet/knit/cheese sculpture project
~You could get food poisoning
~You could....well..Ok, you get the point.

Just don't DO anything tomorrow (or yesterday)(but if it was yesterday, I'm glad you stayed in and hid, since you wouldn't be able to read this if you hadn't). Don't go to work, don't drive, don't shop (shopping cart accidents, people...hello), don't rent movies, don't FLY, for the sake of my sanity people DO NOT FLY. Oh, please don't fly. Don't even eat, if you can help it. Ok, crackers and water. No cream cheese. Ya never know.

Now, don't be one of those idiots that thinks you can cancel tomorrow (or yesterday) out. Don't be foolish and go walking under a ladder or breaking a mirror or anything. That doesn't work. Not that I ever tried. I was hiding.

But, really folks. Have a good Thursday. Or possibly Saturday. And ignore all those people who tell you it's Friday. They're wrong. Just look at my calendar above with the ever-so-yummy boys from Supernatural on it. Would they lie to you?