Look at the Poncho...Not the kid, the PONCHO
Ok, I get it. She's adorable. Blah Blah Blah. But, before you goo and gush over her, keep this in mind:
This is about the PONCHO.
I am showing off my crocheting here, people.
I am NOT showing off my stunning abilities to create beautiful children. I don't need feedback on that. I already know.
Also...
She's evil. I know I have mentioned this before. But it's true. She hears voices. She walks around the house saying "Red Rum, Red Rum," and she knows what it means, too. I once heard this conversation in the back of the car while I was driving:
"Hey, look. Ducks."
"Those aren't ducks."
"Yes they are."
"No. They aren't."
"Fine, what are they?"
"They're crows. Duh."
"I don't believe you."
"They ARE crows!" (yelling)
"Fine, then! They're crows!" (more yelling)
What's wrong with that? you ask. SHE WAS THE ONLY ONE BACK THERE!
Need more proof? Ok. Her toys bleed a lot, according to her. They always have these mysterious 'accidents' and need medical attention. I think her Care Bear may have 'run into a doorknob', if you catch my drift. Want to see what the mind of an evil 3 year old looks like?
CLICK HERE
So, now that you have all been forwarned, look at the poncho.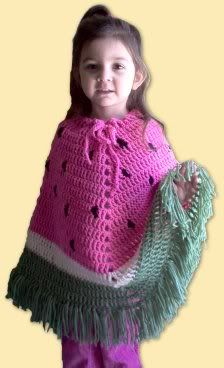 The PONCHO. Don't look her in the eyes.
It was made using cheapie-pie Red Heart acrylics (what else?) and increasing rounds of triple crochets. And it's now on Ebay. The last sweater sold, for anyone who is curious, but only for the starting bid. Oh well, money is money. It keeps me in yarn.
Ok, now gush. About the poncho. Focus, people!