Presenting....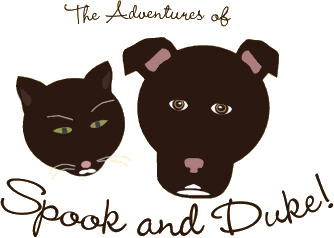 One day, while beating the tar out of each other, Duke said something that altered Spooks naive little existance.
"You know you're not a dog, don't you?" Duke said.
Spook stopped swatting clawlessly at Duke nose long enough to give him a 'what are you, stupid?' look. "Of course I'm a dog. What the hell else would I be?"
"Duh," replied Duke as he placed his big paw on Spooks head and pushed it to the ground. "You're a cat."
"What?! A cat?! You're insane! I'm just as much dog as you are. Ask Mom and Dad!"
"I don't have to ask Mom and Dad. I know what you are. I've been around longer than you have, you know. Ow, stop biting my ear."
Spook kept biting. Duke was starting to tick him off. "Fine. I want proof. Evidence. Facts. I watch C.S.I. I know how it works."
"Ok, let's start with the food," Duke said.
"What about it?" asked Spook.
"Didn't you ever wonder why your bowl has pictures of cats on it?"
"Isn't that what dog food is made of?"
"Umm, no. Also, haven't you ever wondered why you got declawed? Mom and Dad never had me declawed. And what about the litter box? Dog's don't use litter boxes. We just crap anywhere."
"Are you sure?" By now, Spook had stopped trying to wrap his paws around Duke's throat. This was getting worrisome. "Ok, then explain the, uh.....um. Damn. What else ya got?"
Duke was starting to enjoy this. "You get to sleep on the bed. I don't. You get to stay home alone for a few days. I have to go to a kennel. You don't wear a collar. I do."
"Maybe they just love me more."
"Ya. Sure. That's it." Duke was starting to get annoyed, now. " Look, buddy. I've been here longer than you. I've seen more of the world than this house. You wanna play dog once in a while, fine. But you're a cat. And dogs are in charge of cats. End of story." Stupid cat.
After the initial shock of this discovery, Spook starting thinking. Cat thinking. "So I can be evil, can't I?"
"What?"
"Well, aren't cats evil? I mean, don't they live to hatch evil plots that would end in the demise of their parents? Oh! I just realized! That must be why I have the uncontrollable urge to trip Mom and Dad when they are going down the stairs! It all makes sense now!"
Looking slightly worried, Duke replied, "Uh, ya. I suppose. But you don't really want to hurt Mom and Dad, right? You love them, right?"
"Oh. Ya. Sure. Love them. Right,"said Spook. Then he muttered under his breath, "Love them, kill them. Tomayto, tomahto."
"What was that?" Duke asked, ears perked up.
"Nothing."
To be continued......
Click here to see a picture of the real life Duke and Spook.