Return of the Conquering Hero
Hubby just got home last night from a trip to the US. It was a work trip. Army stuff. He has to go occasionally and pretty much just sit around and wait for other army stuff to finish. So he shops. For stuff we can't get in Canada. Isn't that great?

For the big brat, he got Cookie Crisp and Peanut Butter Cookie Crisp cereals. For the little brat he got Trix cereal.

I have no idea why we can't get those in Canada. It's like Campbell's Chicken and Stars soup. We get the regular chicken noodle. And every single other kind of Campbell's Soup. But not the Chicken and Stars. I know. We poor, poor Canadians are to be pitied. Because we have no Chicken and Stars. Hey, how many times could I say Chicken and Stars before ya'll stop reading? Chicken and Stars. Chicken and Stars.

Moving on....

At Christmas time, I went to every Walmart and toy store within a 3 hour drive of my house, looking for a specific toy for Little Brat. A Little Tykes Animal Flashlight. Nowhere. And from what info I gathered, Walmarts in Canada decided to discontinue that item two weeks before Christmas. But it was what she asked Santa for! I was so screwed. She even mentioned it on Christmas morning, after all her gifts were open. Not rudely, just wondering, in that cute and pathetic way kids have, why Santa didn't love her enough to bring her what she asked him for. Sigh.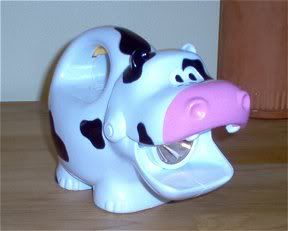 So, guess who walks in the door with one last night. Daddy. Daddy the hero. Daddy who hasn't had to feed her and clothe her and play My Little Effing Ponies with her for a full week, walks in the door with the only present she ever truly wanted. Sigh.

But....

He also got me yarn.

Yep. You read that right.
The man who HATES yarn
, bought me a big pile of it. See: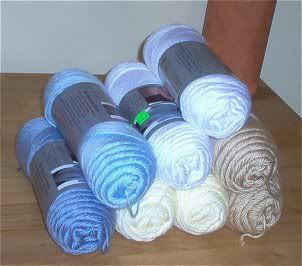 It's all Caron Simply soft, in a variety of colors. I'm not sure what to do with it, so if anyone has any ideas for Caron Simply Soft, let me know.
So, I can forgive him. But now he's raised the bar. I want yarn every time he goes away, now. Sucker.

He also came home just in time to criticize my latest crochet project (he said the color was wrong and that it looked obscene. But I don't know what he meant by obscene). But he was tired. It was a long day of driving. Usually he knows better than to pick apart my work. It's not safe to do that.

It's a pajama bag. Does anyone else remember pajama bags? Aparently hubby doesn't. And apparently he was too cranky and surly to hear all about pajama bags.

I made this for Little Brat (I don't know why, since nothing will measure up to her damn flashlight). It's a strawberry pajama bag. To put her pajamas in and place on her bed. Hey, how many times can I say pajamas before ya'll stop reading? You're at your limit now, aren't you?

Well, the good news is, I wrote the pattern for the, uh, PJ bag. I will type it up sometime this week. So ya'll can make cute (or possible obscene?) Jammie bags for your little brats. Perhaps while eating Chicken and Stars.