Sucker for Stripes
I can't help it. I love crocheting in stripes. I don't know why. It takes almost as long to hide all of the ends as it does the actual crocheting.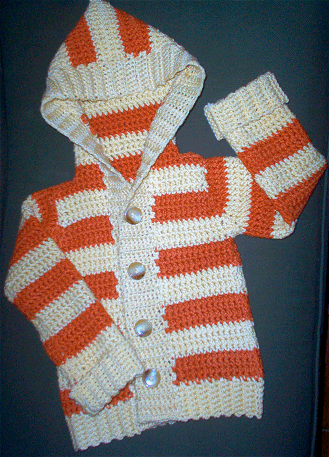 This is my latest. And best, if I may say so. And I will. Since it's my blog. And if I can't toot my own horn here, than where can I?
So, uh....toot, toot.
I love this sweater. I want one. Alas, it is only a size 3 toddler. And also for sale. Or it will be. Once my model wakes up in the morning and helps me get some proper pictures of it.
I haven't crocheted much since Halloween. In a bit of a slump, you may say. But, once again, I am awake all night thinking up new ideas. ALL NIGHT. I miss you, sleep.
And I bought more yarn. LOTS AND LOTS OF YARN. At Walmart. With a gift certificate I got for Christmas. I bought three 1000 gram balls. ONE THOUSAND GRAMS EACH! That's THREE THOUSAND GRAMS! Dudes! They each needed their own Walmart bag!
Yes, it's Red Heart. So sue me. I still like the cheap. It makes pretty stripes (see above).