That's IT!
I quit. I'm finished. Stick a fork in me, I'm done. I give up. I surrender. The white flag is waving. I'm jumping ship. I have been defeated.

All things shorter than me that live in this house.....have won.

Yes, today has been another day of struggling with kids and animals. But it hasn't been just today. This has been building for a while. They have been very determined in their group effort to bludgeon my sanity into the ground. And then stomp on it. And then spit on it.

Two kids, a dog and a cat...against me. I never had a chance.

So, they win. They can do whatever the hell they want from now on. Because I quit.

I'm selling the whole bunch off to the very next band of Gypsies that pass by.

Wanna know what finally did me in? The straw that broke this camel's back? This: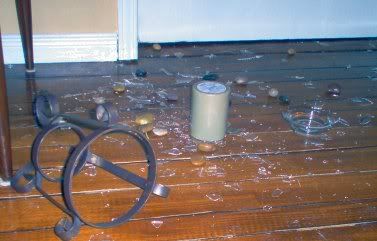 It used to be a matched set. It looked like this: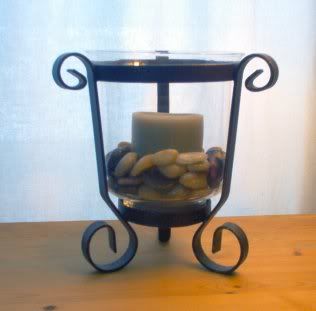 I don't care about the broken stuff. I have lots of stuff. I care about the little brat and the cat getting together to play on the end table, and completely ignoring me when I said 'get off'.

I really don't drink often, but I am drinking tonight. I was going to anyway. It's election night. I always drink on election night. I've already been to the booze store. Got myself some good old Snowcreek Berry Boone's wine. And some Piat D'or for hubby (I hope I got the right one. It sounds like 'pee on a door' to my non-french ears when he says it, and there is Piat D'or and Pinot Noir at the store, so it could be either one, really).

Now I know what my mother meant when she would hysterically yell "YOU KIDS ARE DRIVING ME TO DRINK!" Funny how she's still drinking. Were we as hard on her sanity as my kids are on mine?

Triplets? Hard on sanity?

Naaaaah.

To be quite frank, if I didn't have to go pick hubby up from work, I would have been drunk an hour ago.

Sigh.

The brat is upstairs in her room. She is staying there for a bit, so I can clean up the glass. Well, fine, so I already cleaned it up. She doesn't need to know that yet.

Where the hell are those Gypsies?