Welcome Wagon!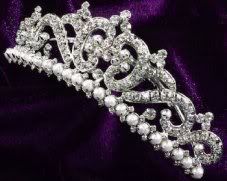 Looky, looky! I have a new tenant! Everyone please welcome Life According to Princess Grace! Put on some coffee, make a bundt cake (has anyone ever even had a bundt cake before, or am the only loser that hasn't?), crochet up some booties for her future babies. (Because the welcome wagons I've dealt with ALWAYS have booties.)
Grace's blog is bright, cheery, fun to read and OH SO girly. I love girly blogs. Not that there's anything wrong with boy blogs. And if you are a boy, you can read this blog, too. We won't tell. It's like reading Cosmo. To understand the females better. You know that can't hurt, right?
Grace is a fun and outspoken girl that believes in blogging what she thinks. A great place to visit. Don't forget the bundt cake!