Beatrice Progress
It's actually a bit further along than this, but the batteries in my camera died.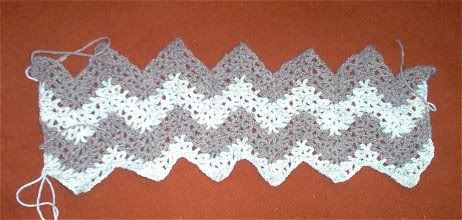 But these are the colors. I L.O.V.E. this pattern, by the way. So simple. At least it is so far. I probably shouldn't jinx myself. I'm just past halfway, thanks to 3 nights of American Idol.
What a horrible picture. I need a new camera. I paid a hundred bucks for this one a while ago, just because my other one broke. I probably should have spent a bit more. But then I would have less money for coffee. And that would suck.
Today's plan is to work on the shrug for a while. Then clean. Then sand some walls. Then make dinner. Then go out for coffee. Without kids.