Cookie Calamity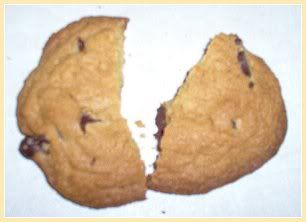 Like my cookie? It's nice, yes? Chewy, crunchy, buttery, chocolatey. Mmmmmm. But maybe he looks a little like a broken heart, yes?
That's because, like all those who dissapoint us in this life, he's not all that he appears to be. And thus, my heart is broken.
I was baking a beautiful batch of chocolatey chip goodness in cookie form yesterday afternoon. It was going well. No problems. I had all the right ingredients. In some cases, such as the brown sugar, I had just the right amount. What more could I want?
But then, disaster struck.
My Kitchen-aid mixer was doing all of the hard work, creaming the sugar and butter. The flour, salt and baking soda were waiting patiently in another bowl, all mixed together. All I had to do was add the eggs.
That's all I had to do!
Did I stop the mixer and lift the arm to do this? No. Why? Because I wanted to be fancy. Like some TV cook. Maybe like Martha. You know what I mean. All quick and sure of themselves.
That's when it happened.
I dropped the egg.
The WHOLE egg.
Into the bowl.
With the mixer on medium speed.
Oh, the humanity! (or is that doughmanity?)
There was shell everywhere!
So, I had only two choices. Dump the whole batch, or pick out the shells. I had just run out of brown sugar and had no way of getting more. So it would all be garbage, and I would be unable to satsfy my chocolatey chip cravings. (unless I just ate the chocolate chips, but where's the fun in that?)
It was enough to make me cry. (Ok, no, it wasn't. But I'm going for DRAMA here, people)
I choose to pick out the shells. It took a while, but I got most of them. I think. At least my family hasn't said anything.
All I know, is that I've personally had two cookies that were slightly...crunchier....than they needed to be.
Sigh.