Freedom!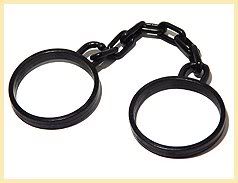 I've won the Mom lottery.

I've been paroled from Mom jail.

Take these shackles from around my wrists, I don't need them anymore!

The day I've been waiting 3 years, 9 months, and 6 days to arrive. It's here. HERE.

A Mom's fondest wish come true!

My oldest can now babysit my youngest.
Hang on....I need to savor that statement for a minute......

Last night, I went to the grocery store. Whooo. Big night out. But it was. Because I went with my husband! And that's the closest thing we've had to a date since.....um....oh, crap, I can't even remember the last time we had a date. So, fine. Browsing for weekly specials in the cereal aisle isn't exactly the same as dinner and a movie. But it's a start.

We even got a cell phone. So we can call every 2 minutes and check up on them. I'm not really worried. Well, maybe a little. Not that I know which one to be worried about. They're both space cadets. But a live-in babysitter is the best argument for having your kids eight years apart!

So, now that my cold is dying down (no thanks to the sleeping pills, they didn't do a thing), I need to catch up a bit. I've added more random things to my
Ebay Penny Sale
. Some cool stuff there. Look. Now. Yes, I mean NOW! Go!

Ok, now that you're back, you're gonna want to go see my new tenant,
One Man Bandwidth
. It's a fascinating blog written by an American proffesor in China. It has all kinds of commentary, cartoons and wonderful writing. Go. Chop chop.
Back? All right then. Nice trip? Good. Good.
What? You want more from me? What do you want, details on my new armpit zit? Ew. Sorry. Now way. Besides, it's still too small to go to the emergency room with, and I'm not going back to the same doctor as before.
But really, that's it. I'm busy. I have to clean the kitchen, and make muffins, and finish a new poncho set to sell on Ebay, and paint my hallways, and chase my brat around the house. But only till her big sister comes home from school.....woohooo!
They can take my sanity, but they will never take my FREEEEEDOOOOM!