Tramping it Up!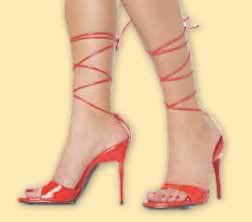 It's been a while since I've done this, so go easy on me.
I'm having an Ebay Sale. A Penny sale! That means that all of the auctions in the sale have a starting bid of one cent! Isn't that exciting?! It's mostly my kids' used clothes, some of them practically new, but I'll probably throw a few random other things in there, as well. Making money is great, but this is really more about the purge. We have too much crap in this house.
Uh. Did I say crap? I meant quality previously loved items!
So, in order to actually make sales on all of these wonderful items, I'm whoring myself here to ya'll. I'm strapping on my stilettos, painting up my face with ruby red lipstick and blue eyeshadow, squeezing into my black leather miniskirt and hot pink tube top, and standing on the corner for ya'll.
Please. Come purchase my wares. Or at least go look at them. You like, don't you? Go ahead. Buy them. You know you want to.
I'll be adding more throughout the rest of the week and the weekend. And probably into next week. Depending on how much....uh....items destined for new homes...ya, that sounds good....how many of that that I find.

And, when you are done bidding, go visit my tenant, Mystickal Inscensem by clicking on the thumbnail in my sidebar. You know you want to.