I'm So Weak
I cheated on
Beatrice
last night.

I couldn't help it.

She just isn't exciting me anymore.

Sure, in the beginning she was fun. A new pattern with some fresh yarn. Who could resist? But now....

It's just chevron stripe after chevron stripe after chevron stripe.....well, wouldn't YOU go in search of something more?

And it's the urges. The urges I've had lately. To design. I can't seem to stop myself. It's like I have no control.

I'm so so sorry Beatrice.

I sure hope she takes me back.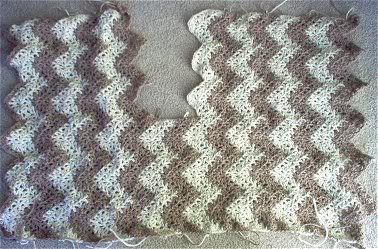 Current Beatrice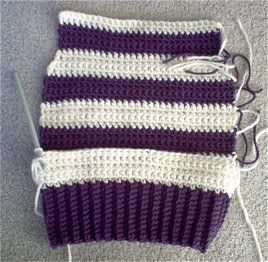 The Other Woman (Undentity to be Revealed Later)
Before I continue on with my day, I have a very important question. Why the hell did I dream about a Sock Monkey in every single dream I had last night???? It was so odd. I never have dream themes.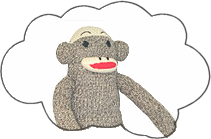 And I never remember much of my dreams, either. But a SOCK MONKEY!? I looked in a few dream dictionaries. Not that I put much faith in them, but when faced with a recurring Sock Monkey, what would you do? They mostly just say that a sock can mean you've been hit with news. Like that makes any sense. Or if I look up monkey it says 'To dream of a monkey ,denotes you have deceitful friends that will flatter you to advance their own interest.' Interesting. Nothing about a Sock Monkey.
I wonder how many times I can say Sock Monkey before ya'll stop reading?
In other news...I had my first Roll Up the Rim to Win coffee last night. 'Please Play Again.' The bastards. I want a new TV. I've been cutting back on Tim Horton's coffee, as part of a new budget. But I think the budget needs to be blown. This is the year! This year I will win something bigger than a muffin! Tim Horton's OWES me!
Added later because I forgot to include this earlier. Duh.***
Did anyone watch LOST last night? When Claire was making the little blue baby botie? Was she using a hook or needles? Because I thought I saw needles, but later, when they showed the bootie up close, it looked crocheted to me.
Ok, I'm a loser. Whatever. You're still reading my blog.