Wah-LA!
I buckled down. I finished Beatrice this afternoon. I watched a lot of bad daytime TV for that girl.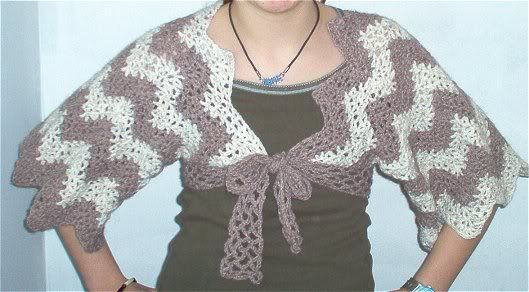 The yarn was LionBrand Sportweight Wool-Ease. I got it a LONG time ago, and this seemed like a good project to use it on.

I don't know that I will make this one again. As you can see, it fits my 12 year old daughter. Not me. And that's OK. It was divine intervention. Now that it's finished, I can see how it wouldn't look right on me. I am short and have no torso. Ok, a short torso. Whatever.

I think if I DID make another one, I would use a less stretchy yarn, and maybe a bigger hook. At least for the chevron part.

Overall, I'm just impressed I finished a whole pattern. Except the fringe, but that wasn't lazy. I just didn't like the fringe.
Now I can get back to designing. Without the guilt.