Book Review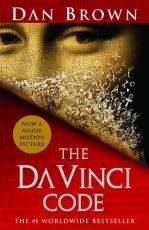 Have any of ya'll read the 'Da Vinci Code' yet? I'm sure you have. I'm always the last one to read the bestsellers. I don't know why. I guess I just don't like doing the same thing as the masses. But my husband bought it. So now I'm reading it. And I can't believe how much I am loving it.
I'm about 3 quarters through it, and I am absolutely fascinated. And not because of the possible religious fallout the book implies. It's all about the art for me.
When I was quite young, in junior high school I think, I started getting interested in subliminal and hidden messages in art. Hidden words, secret images, double meanings, etc. Mostly in the old art, but some in modern art. Even a Rice Crispies commercial where Snap is flipping the bird. By high school, I was using the topic in any project I could. Speeches, book reports, even art projects. Yes, I have a few hidden meanings in some of my own art.
I was obsessed with looking for more. Since I found out that virtually every alcohol ad in a magazine has some strange hidden images, I have not been able to flip through a magazine without looking for them. Look for yourselves. They are usually skulls, demon faces or, um, ahem, phallic symbols. They are not sure why skulls and demons make people want to buy booze, but they've been using the trick for years and years.
Also, there was the whole 'stick it to the man' part of the art world. That's great. I love it. Starving artists would be commissioned to paint some stuck up little brat of an overly rich titled family. So he would. And add a little message somewhere on the painting, making it impossible to see unless you know it's there. Usually a dirty word on the forehead. Then he would tell all of his art friends about it. And OH how they would laugh!
When I went back to school as an adult, I managed to write a paper that included this again. It dealt with messages that were a bit less subtle. It was about how art influenced the industrial revolution. It was actually called 'Art and the Industrial Revolution'. Clever, eh? I thought it was great that artists would use their works as commentary to affect the social consciousness. It's a thoroughly dry and boring paper to anyone that isn't me, but I got a 99% on it. I still have it in my basement, hoping that someday, SOMEDAY, somebody will be fascinated enough to read it. Even my mom thought it was too boring too read, and she's an accountant!
Anyway.....I love this book, The Da Vinci Code. I have to figure out how to finish it today, as well as clean the house, make a birthday ham, bake a birthday cake, go pick up my fixed computer, wrap some presents and have a little birthday party for the little brat.