Choo-Choo
I need a maid.
And a cook.
And a nanny.
And a few young and shirtless handymen.
Any applicants? No?
Fine. I guess I'm on my own. That's just fine. I've got my coffee to get me through. Yes, I am still on the bean. I did completely give up Aspartame, though, and it seems to have helped lessen the migraines a bit.
I knew it wasn't the coffee. It wouldn't betray me that way.
Is it me, or am I completely rambling? Because if there ever was a train of thought to this post, it pulled out of the station without me.
And is it just me, or is Madonna starting to look more and more like Cathrine Willows, the slutty cougar mom from CSI?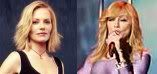 Also....where is Shane on Survivor getting the crack cocaine from? It's an island. Are the locals sneaking it to him? The camera dudes? Maybe the producers just want to keep it interesting and are hoping he has an overdose. Is he sharing with the rest of them? Is that why they are doing his evil bidding and voting off whoever he says, knowing full well that he will stab them all in back for a drag off of a cigarette found in the gutter? Sheesh. Won't they feel embarrassed once the drugs wear off and they are all sitting in the jury box with matching "Boston" tattoos.
What was I talking about again?
Oh, right. Coffee. I'm going out for coffee tonight. Woohoo. Escape. Without kids and hubby. Of course, it's with a friend that was terrorized by fiber arts as a kid, so I can't talk shop with her. Her mom was a knitter and crocheter. Poor kid had "Stop talking, I'm counting!" yelled at her one too many times. Now, if I even try to mention yarn, her eyes get a kind of glassy look.
In the meantime, I am working on too many things again. I have a few projects that are about 90 percent done, which we all know is the most likely time for them to be put down and never picked back up again. I am determined to finish them, though. I also have about 5 patterns from past projects to type up, and a half dozen new ideas for patterns I haven't written yet.
My banister is ALMOST done, but it needs a few more coats. Lots of sticky fingers will be touching each and every spindle on the way up and down those stairs, so I want to be sure there is a lot of protective layers of paint.
My house is a mess. Which brings me back to requiring a maid. Sigh.
Now, where is that train?