Tv? Reality? Tattoos? What?
All those who watch Amazing Race.....did ya'll just about have a stroke at the end, waiting to see if it was a non-elimination leg or not? I know I did. Ok. Maybe not a stroke. But it was very stressful.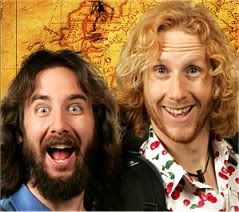 Those poor, poor hippies.
First off, I have to say, I hate those digging and searching tasks. There are always great teams that get eliminated because of them. And it's all about luck. Why don't they just send them to Vegas and have them play the slots to see who wins. I'd much rather the tasks involve some kind of skill.
And, since I am obviously now rooting for the hippies to win, that was stressful last night. But, it's OK, they're fine. Of any team that has EVER raced, they have the skills needed to get the money for the next leg. They are the most polite, friendly and respectful people ever to go on this show. Also, that imitation of Lake on the bus was the funniest AR moment ever!
Am I gushing?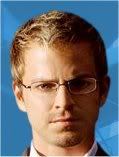 On to something else.....who watched CSI NY (episode recap
HERE
)? I know. It was lame. Another stupid 'Tanglewood Boys' episode. Because we all think that's a believable facsimile of a New York gang. And that Sonny Sassone character is looking a lot crappier since the last episode he was in. But, of course, it was an opportunity for Danny to have a few of his big emotional overacting scenes that I HATE SO VERY VERY MUCH.
However, I was more interested in the last scene. The scene in which Stella realizes that her oh-so-dreamy older artist boyfriend (of which I can TOTALLY relate), Frankie Mala, is really a total perv and has put something creepy about her on the internet. For real. Go see. WWW.ARESANOB.COM .
It's the character's last name, Bonasera, spelled backwards. And it's a real website. Only there's nothing on it yet but a quote. And it hints that he's not only a perv, but also a really creepy and scary stalker (of which I can also relate. What's with the older artistic types, man?).
Dudes. It's like real life and TV life have FINALLY merged!
I really do have a life outside of the TV, you know. I do.
For instance, I am going to go to a tattoo studio later this week to look at the artwork there. It's a really good place, rated in the top 3 in Canada. I don't have any 'tats' yet (did ya like the lingo there?). I have been reluctant to get one all these many, many years. Not because I don't like tattoos. I really do. But I've seen too many badly done tattoos to trust easily. And I have also spent all these many, many years trying to decide what I want to get.
They're permanent, ya know.
I once had the opportunity to train as a tattoo artist. I had to decline. It wasn't for me. I would hate to see all of my beautiful images, that I had worked on for hours or even days, get up and walk out the door forever. So sad.
So, now I think I have settled on what I want. Also, I would like to enjoy a tattoo for a few years before my skin sags right off my bones. I'm not telling what it is yet. But I'll show it off if it ever makes it's way onto my body.
Anyone have a tattoo? What is it? Where? Any horror stories? Hints and tips? Come on. Share.You know you wanna.