TTOW!
Who didn't get up and do a little jig when the hippies won the Amazing Race last night? They had me pretty worried there at the end, when they were putting all the flags in the wrong order. But those hippies ain't dummies. Except when it comes to recognizing snow shoes. All in all, they were the most deserving team. And Phil really, really liked them, too.
My company is gone. I might be sad. A little. I'm pretty sure whatever sadness may be lurking about is completely overshadowed by my overwhelming relief that they are GONE!
HAHAHAHAHAHAHA!
My mom, 2 sisters, a 4 year old niece and a 2 year old nephew were here. For 5 full days.
AND it rained the WHOLE time.
AND my niece, only a few months younger than Brat, has daycare combat training. Brat does not. And there was a war over EVERY SINGLE TOY. Guess who won?
AND Brat also had a full hate-on for my nephew who kept touching her toys, damn him. Who does he think he think he is, anyway?
AND my one sister has to pick a fight about EVERYTHING. Like telling me that I don't really get migraines. They're just headaches. What SHE gets are migraines. What?! Who says that to someone? Who tells a person that an ongoing problem that is affected the very quality of their daily life is not real? Yes, she does take crazy drugs. But that doesn't excuse rude. And she also ruined a pair of my pants and tried to steal my shoes.
AND my mom brought her laptop so she could play computer games and online poker the whole time. She is hyper-competitive, so if my 12 year old beat her in a computer game, she would then stay up until 2AM just so she could beat the high score. Of a 12 year old girl. Woohoo. Way to go mom. You kicked her 12 year old girl ass.
I snuck on her computer right before she left and beat all of her high scores by thousands of points. She'll be trying to beat those for weeks.
AND my husband has been working ridiculous hours which make him very cranky and was ready to kick them all out of the house by Saturday.
AND I was in agreement by Sunday.
AND, right before they left yesterday, my 2 year old nephew decided that my remote control needed some perking up.......so he dunked it in a big cup of coffee. R.I.P. little remote buddy.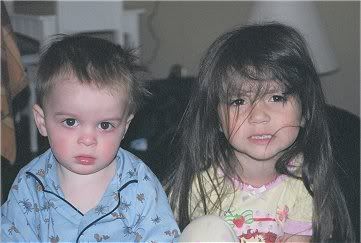 Can you feel the love?