The Vitruvian Crocheter
Do I have a lot of work to do today?
Yes.
Are my sisters and mom coming for a visit in just 3 days?
Yes. They are.
Is my house a disaster?
How did you know?
Has my husband taken apart my bathroom, again, with the delusion that he is 'fixing' it? And do I worry that it will still be in tatters when my family gets here?
It's just uncanny how ya'll know these things.
And, am I working on a deadline for this oh-so-secret crochet publication that is getting closer and closer and making me have awful nightmares in which I am tangled up in yarn and can't get to the post office in time?
You know I am.
Does my banister still need to be painted, along with the door to my cleaning closet?
Sigh. Of course.
So, am I frantically running through my house trying to get these things done........
OR
..... am I sitting at the computer with a pot of coffee, unreasonably excited about the new Davinci Code movie than I should be (most likely due to the fact that I have not been to see a movie in about a year and my mom will be here to babysit so I may actually get to go and see it in an actual theatre) and the insane urge to play with my graphics program ?
Well, ya'll know me so well.....what do you think?
So, there's a new design in my Cafe Press Shop.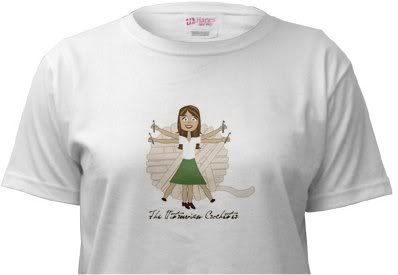 If anyone wants this design on a different Cafe Press product, email me. I can move some stuff around.
Ok. I'm going to go paint now. I swear. Really. I won't be on the computer anymore today. Much.