Friend of a Friend Friday!
I don't want ya'll thinking I have abandoned crochet completely. I really haven't. In fact, I've started a shawl for myself with hexagon motifs, to be worn at the wedding of a cousin that I used to live with, but was never really close to. I wasn't planning to go, but then my aunt called and said the numbers of people attending are pretty low, and they paid A LOT of money for it (my uncle has to leave retirement and work for 2 more years to pay for it), so she is trolling for guests. And, since my dad and stepmom will be there, and it's only a 6 hour drive from us, and I have a really great excuse to make a shawl that blows all of their snobby knitter* minds, I figured 'What the heck!'

Besides....it's an open bar.

But, new shawl aside (which I will show pics of as it progresses), I have not really been crocheting much. And I think we all know why. Photoshop is somewhat addictive. Not as much as yarn, but not far behind.

So, today's friends of friends may be graphic involved as well as fiber involved. It took a bit more searching through blogrolls, but heck, I'm on the computer anyway, right?

Today you should go see:


Big Girl Feet
(brilliant graphics and a great knitter, too!)
The Worsted Witch
(more brilliant graphics, and I LOVE the name!)

My Hobby Blog
(Another crocheter and photoshopper)
And, for anyone interested in photoshop tutorials, here are a whole PILE of great ones. I may need a few extra days to get through them.
Janee's Photoshop Tutorials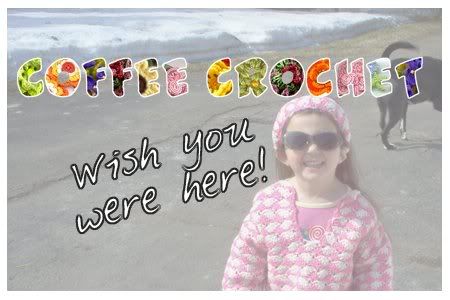 *Sidenote: I don't think ALL knitters are snobby. I usually envy their skills. But some of them, like my aunt and the lady that owns the only LYS store around here, don't consider crocheting. They just don't consider it. And if it does cross their minds, they just wrinkle up their nose and act like they stepped in dog poop. But AI don't think all knitters are like that. I like most of you. Really.