I Drew!
First of all, a little background:
I'm not one for false modesty. Never have been. Either I am good at something, or I'm not. For instance, I rock at crochet. Knitting, I suck at. These are just facts. As far as drawing goes...well. I used to rock. A lot. I mean I was gooooood. And I loved it, too.
But then life happened. Kids. Work. Stress. Injuries. Etc. I didn't get a lot of chances to draw. And when I did, it sucked. A lot.
Ya see, the problem is pride. And standards. Based on how great I used to be, my standards were very high. So, when I did try to draw after years with no practice, and it sucked (according to my previous standards) I would get frustrated and stop. My pride was at stake. There was no WAY anyone was ever allowed to see my attempts. Which is why they always ended up in the garbage.
Earlier today, I had a sudden urge. To draw. Not sure why, but I decided to be brave and go with it. I spent a good hour in the basement digging out my old pencils and sketch pad. The spiders had made a nice little neighborhood, but I evicted them. The bastards. Then I locked myself in my room and I drew a picture.
And it SUCKS!
But that's OK! For the first time in 12 years, I have drawn something and not thrown it in the garbage. In fact, I got past the initial drawing stage (which sucked) and kept going into the shading stage (which also sucked). I loved it! The feel of the paper, the dirty fingers, trying to get just the right light in just the right area.
Sigh.
I'm about to show you the drawing (when I am done rambling). Please keep in mind that it sucks, and I know it. So don't tell me it doesn't. I know some of you may want to say 'It's better than I can do." And while I doubt it, that's not the point of showing it. Because it's not better than I can do. I could draw better than this in grade 5. But, showing it to the whole world wide web is a little like therapy. Because I actually completed a drawing and now I need a record of it. So I don't get all scared and prideful and hide in my little scaredy-cat hole where drawing never happens again. I need to practice. Start from the beginning, drawing my hands and shading circles and so on. And I will. Maybe.
Ok, here it is: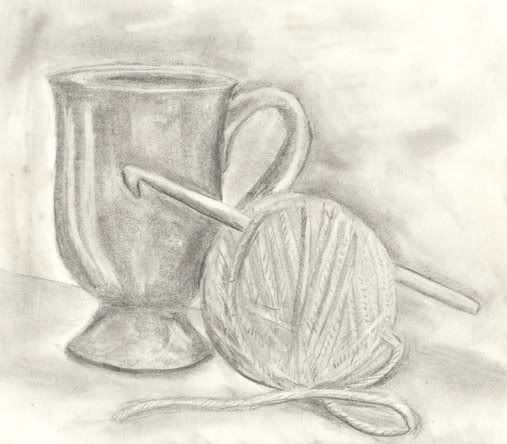 Click for bigger view, if you dare.
No compliments. Just be proud of me for showing ya'll.