The Moneybag Theory
I've noticed something in my years of living that has led me to form a theory.
I've noticed that the bigger the purse I carry, the more crap I need to carry in it. Conversely, if I don't carry a purse at all, I suddenly don't seem to need 86 pens, a spool of thread, 14 hair elastics, 6 lip balms and a tub of play-doh with me at all times. Just in case.
This also works on basements. I didn't have a basement in my apartment, and my stuff all had places to go. Then we moved to a house with a basement. And the basement filled up. When we were moving to a house with no basement, we had to get rid of the accumulation. Now that we are back in a house with a bigger basement, there is more crap.
Closets, junk drawers and toy boxes also seem to have the same problem. It's just like the Koi fish. They will grow to match the size of their pond. Items will multiply to match the size of their environment.
I've decided to test this theory. Make it work for me.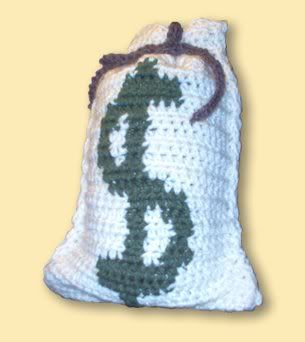 I'll let ya'll know how it goes.
If you want to test this theory as well, here's the quickie pattern to make your own moneybag:
Materials:
~Small amount of white or off-white, small amount of green, small amount of brown. Worsted or cotton would both work.
~Standard pickle jar (optional)
FRONT
Row 1:
With white or off-white ch 25, 1 hdc in 2nd ch from hook, 1 hdc in each ch until end of row (24) turn.
Row 2,
Ch 1, 1 hdc in each hdc across, turn.
Row 3-24:
Continue as with row two, changing to green according to the chart.
Note* The blue on the chart indicates eyelet holes, not a color change.
Row 25:
Ch 1, 1 hdc in next 2 hdc, ch 1, skip 1 hdc, 1 hdc in each hdc until 3rd last hdc, ch 1, skip 1 hdc, 1 hdc in remaining 2 hdc, turn.
Row 26:
Ch 1, 1 hdc in each hdc and ch 1 space across, turn.
Row 27-28:
Repeat as row 2. Fasten off.
BACK
Repeat steps for the front, but without using the chart or changing colors. Do not fasten off at the end of the last row. Hold both sides together right side facing out and attach together using slip stitches around the sides and bottom of the bag.
TIE
Chain 75 with brown, fasten off. Put through eyelet holes and tie in the front.
Hide loose ends. Tada.