Striptease ~ Not Just For Skinny Girls Anymore
Well.
I had stated at the end of my last post that I am planning to take long walks. Ya know. To make with the skinny.
But, that plan died a very quick and scary death. Due to a dog. A dog that belongs to my neighbor across the street. A dog that is a large and not fully trained rottweiler. A dog that is in a yard with a 2 foot high bar acting as a fence and absolutely no gate at all. And apparently no owner in the vicinity to stop it from running towards me and growling loudly and SCARING THE CRAP OUT OUT OF ME, sending me running back home in fear after barely walking to the end of my driveway.
Now, I have a scary looking dog. And I get annoyed with people who get scared of him if he barks a bit when they are walking by. But that's because he is never outside for longer than a pee unless someone is with him. And, he doesn't growl at people, he issues a friendly little Hello bark. Sure, it's a deep bark, but just a bark. AND, he's behind a fence. A four and half foot high fence. With an extra length of farm fencing in the areas where he used to squirm under. And a GATE. Which all may act to make him look even scarier, as if we are protecting the general public from a viscous animal bent on tearing all of their throats out, but really is there to protect him from the idiots that would hurt him because of his scary looks. Because, in reality, he gets beat up by a cat. A clawless cat. Daily.
But, I digress.
Since Plan Go-For-A-Long-Walk-And-Don't-Come-Back-Until-I-Fit-In-Last-Years-Jeans has been kiboshed, I've moved on to Plan B.
TADA!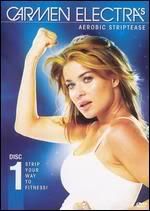 Carmen Electra's Aerobic Striptease! You want to make your husbands eyeballs bug out? Come home from a yarn shopping trip with THIS workout video. And inform him that as you get better, and move on to other videos, you get to learn how to lapdance. And then remind him that he will be away working all summer, and won't be able to witness said workout. Awwwwwww.
He asked me (in his smartass way) if I was going to crochet something to wear while learning how to strip. I said, Yes, legwarmers! He gave me a funny a look and asked me if I was serious. What the Hell did he think I was going to crochet????? Tear-away pants?????
I have since started and stopped 3 different legwarmers. I will eventually finish them and write out the pattern (aren't I always promising that), but I need to stop crocheting for a few days. My neck is on the very edge of being healed enough to start stripping, but crocheting tends to tighten it all up again.
But, that's what EBAY is for! I'm thinking of
these ones.
And I'm TOTALLY going to have to find a sweatshirt so I can do the Flashdance look. And, just a warning: If you plan to do a Google image search to research what a nice tasteful stripping outfit may look like, I suggest making sure the 'safe search' is turned on.
Has anyone else tried this striptease workout? Did it work? Come on, you can tell me. It's just you, me and the world wide web here.
As for the wedding shawl....there's a whole other story about the creation of that shawl. Which I will tell ya'll soon. And if I can figure it out, have a pattern for you, too. No really, I promise.