Friend of a Friend Friday : Season Finale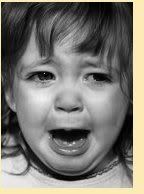 Maybe ya'll should go get your hankies before reading this. You might get a little teary eyed. Afterall, this will be the LAST Friend of a Friend Friday until at least September.
Next Friday is my anniversary. And while I can't think of a better way to celebrate my five years married to my husband, who returns home from more than a month away just the day before, by spending it on the computer with ya'll....well. I have better things to do.
I'm taking the minivan in for a wheel alignment and oil change.
Well, what did you THINK I meant? Dirty birds.
Then, assuming hubby can get leave (please, Army, please please please let him have his leave) for the 14th, we are OFF and driving to Edmonton. There is a possibility that they won't give him leave until the 16th, and we still need to be in Edmonton by the 18th, so it should be an interesting drive. FORTUNATELY, my favorite-ist in-law, Auntie Louise, got portable dvd players for each of the brats. Yay!
So, while I am still around for a few days, this will be my last Friend of a Friend Friday until September. So, enjoy the blogs I list. I know. They're not me. But they are recommended by me, so what could be better than that? Besides me, of course. Ok, here. Stop sniffling. I'll be back. Go visit them.
Two Gnomes
Creative Little Daisy
Lotte's Sketchbook
And don't forget the thumbnail on the sidebar. AND since this will have to hold ya'll for a while, feel free to recommend a friend blog of your own.
ALSO.....fellow Canadian, crocheter and Lover of Mr. Horton's coffee,

Jana of Stitch-o-rama

, has decided to stop blogging. Not visiting, just blogging. And, while I am sad about it, I understand. So, go give her a big blogger group hug!
And, just for kicks, go HERE, too.