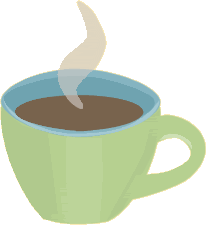 Good Monday Morning, everyone.
I'm having a slight panic day (ok, fine, week). There's just been a lot more in the news lately regarding Afghanistan and my husband's new job and all that. And, while he is currently in a place no more dangerous than Boy Scout Summer Camp, I'm in a place (mentally) where I can't stop imagining the future. Stupid future.
It's not a big deal. I'll be fine. I just need to let myself panic every once in a while. It's like releasing steam. And he'll be home on Thursday. Where I can keep some tabs on him.
And, since I barely slept at all last night (which was less boring due to the dashing company of Indiana Jones on DVD), I am going to spend the morning drinking coffee and playing around with some
Doodles
.
I'll be more interesting later on today, probably.