A Haunting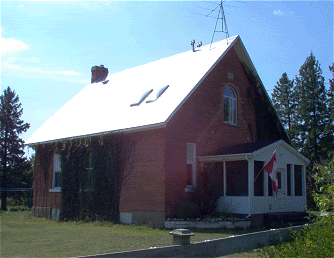 I want to start this post off by reminding everyone what my position is on ghosts.

I would rather be crazy than haunted. Because they make pills for crazy.

That being said.....my house is still SO haunted!!! There's no denying it now. And I'm not the only one who thinks so, anymore. And yes, I know, some of things can be rationalized. In another house. When something odd happens once a year or so.

NOT when things happen ALL THE TIME.

And, it's not like this house doesn't have some history. It's a 100 year old school, which was at one point an underground bar in the 70's. And the (unconfirmed) rumor is that 2 people died here while it was a bar.

So, for you skeptics (of which I was one before living here), I am making a list, in point form, of everything I can remember happening in this house since I moved in. Somewhat in order. It's all blurring together now. Some has been reported here on this blog before, but I won't make ya'll go back a year and half to read it all. And if you read it all and still think I'm crazy, that's OK. As long as you bring the pills to fix crazy.

~ While sleeping on my stomach one night, I felt a very hard, sharp jab in my ribs. It felt like fingers. It hurt. A few months later, we discovered that the exact spot that the jab came from was directly over the original trap door leading up to the attic of the school (now our second floor).

~ Doors that I close get opened. Often my youngest's bedroom door. She insists on having it closed at night because she doesn't like having the cat in her room. Sometimes, she starts yelling in the middle of the night because the cat is sleeping on top of her, even though I check her door before going to bed. And no, the cat can't open doors. He's a cat. Der.

~ Lights flicker sometimes when I am in a room. No, it's not the wiring. It's all new. And it's not the lightbulb. And it doesn't happen when anyone else is in the room. Just me. And they usually start flickering in the bathroom the minute I take off my clothes for a shower. See? Pervert ghost.

~As I was walking from the bathroom to my bedroom in the middle of the night, past the stairs, I heard a creak about halfway down the stairs. So I stopped. And turned to look. I know. That' what you yell at the girl in the horror movie NOT to do. But I did. And something else decided that I shouldn't. I felt a hand push my right shoulder and propel me into my bedroom. Where I proceeded to hide under the covers in terror until morning.

~ I saw a ghost. Yes, I did. Shut up! I did too! She was tall. And blonde. And had a yellow skirt on. She peeked around a corner at me while I was sitting in the living room. It was very fast, but I definitely saw her.

~ I was chatting with the local bookstore owner. We started talking about houses, since we both bought at the same time. When she heard which house was mine, she gasped. Apparently, we scooped her and bid on this house only hours before she planned to. Then she asked me how I liked it. When I joked that it was 'ok, just a little haunted' she gasped again. It seems that when they came to view the house, her daughter wouldn't come in because she saw a man in the window. The house had been empty for a few months at that point.

~ A friend was picking up the mail while we were on our road trip. She walked in the back door one day to drop it off in the kitchen. As soon as she walked in, she saw a man standing by the stairs (almost right where I saw the tall blonde lady). She said he was middle aged and balding, and then he went up the stairs quickly. She followed, because she's apparently CRAZY, but didn't see anything else. She did, however, feel a WHOOSH on the nape of her neck.

~ My oldest has one of those annoying teenager bedroom doorbells. You know, the kind that they think gives them permission to not let anyone into their room unless you ring the doorbell first. And, since I am SUCH an accommodating mom, I make sure everyone, especially my youngest, rings the doorbell as much as humanly possible. Because she asked for it.
The night we got home from out trip, after the kids were all in bed and sleeping, hubby and I were watching TV. I got up to turn off the kitchen and hallway lights. When I was in the hallway where her bedroom is, and nobody else was there with me, the doorbell rang. Just once. And hubby heard it, too. So now he KNOWS there's something weird going on.

Keep in mind that this is just what I can remember at the moment. With only one cup of coffee. And it excludes all the times that I just had a creepy feeling or saw a shadow moving. But I'm not crazy. Much. I swear.

And, no, I won't ask them to go away or leave me alone. One, because they were here before me. Two, because I've been told that while that may help, it could also make it worse. And even though I am far less freaked out now that I was 2 years ago, I am still a big fat ghost chicken.