I Hate My Car
Warning: The following post may not be suitable for all makes and models of cars. Scenes may include graphic descriptions of violence against cars. Not all car part descriptions will be accurate or even sane. Younger cars may get scared. Reader discretion is advised.
I HATE my car. I hate it hate it hate it hate it hate it. Hate. It.
Fine. So it's not a car car. It's a minivan. But I still hate it. Why? Why do I loathe the Looser Cruiser?
Because he's broken. A lot. A LOT. All the time. Back brakes, front brakes, rear passanger side bearing thingy, sway bar bushing crappy things (3 times), front wheels enourmously out of balance while driving through the backwoods of nowhere, engine light coming on for no reason, rust spots on the hood, computer messing up and unlocking the doors and unlatching the back hatch door over and over over and over and over, while we are driving, and so on. It really does go on. I just can't remember everything. Except for YESTERDAY. When the TRANSMISSION was leaking. And there goes more money to fix THAT.
And, I hate him because he is only 4 years old. FOUR YEARS. We bought it brand spankin new, right off the lot. Fine, so he's been from Ontario to Alberta and back a few times. And all over Ontario at least a few times a year. And at least one 2 hour trip at least once a week. And to Boston, and Maine. Whatever. He's still only 4 years old!
And, I hate him because I love him. I love this van. The way it looks. The way it drives (when it's fixed), the space inside. Even the radio is great. I love him. And I hate him.
HATE. I can't take this anymore. As soon as I start to make even a TEENSY amount of money, he sucks it up. And I want him gone. GONE. Because if I have to sit and watch him get fixed and fiddled with while all of my money goes away one more time...I'll...I'll....KILL him.
You heard me. KILL. I'll take the first wrench I can find and I'll start pulling whatever I can out of the engine. Then I will take all of the knobs off the dasboard and JUMP on them. Ya. Then I'll get me a crowbar...NO, an AXE...and smash in all the windows. YA! Then I'll key the whole paint job. Take THAT butane blue paint! Ha ha! Ohhh. Then the seats. I'll use my biggest butcher knife. Yaaaa. And the carpets, too. I'll light THOSE on fire. HA HA HA HA.....
...oh. Sorry. I was just daydreaming there for a second. Because for reals, I hate my car. But I'm stuck with him. Because he is SUPPOSED to be our second car, come next year when he is all paid off.
Then I'm gonna get me a Corvette. Ya. A blue one. But not that stupid butane blue, an electric blue. A Stingray. Maybe a '63 or a '65. Ya. That's the ticket. A booster seat will fit in that, right? Sure it will. And my alleged husband can take to the LOOOOOOSER cruiser to his alleged work with him.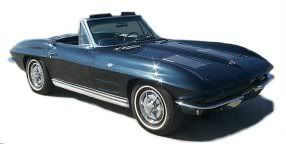 EDIT*** For Jana and anyone else that was wondering...it's a Dodge Caravan. 2002.