The Trip: The River
My home away from home for a few weeks. At my Mom's river property. You can't actually see the river in these pics, but it's there. Trust me.




The kids slept in the little trailer, hubby and I in the tent. The red tent was kind of a shed, I guess. The air mattress leaked the second night, so we had to go and buy a new bring-your-own-bed. The temperature dropped the third night, so we had to go buy toques (that's a warm hat, pronounced TOOOK, for the non-Canadians). It dropped again the 4th night, so we bought a new blanket. Thank Folgers Whitecourt, Alberta has a Walmart.

Yup. Whitecourt. Not the prettiest town in the world, but it's where my family chooses to live, in the bush, every summer.

It's nice. But odd. Like a bunch of hillbillies. After only a few hours, my kids looked like there were being raised by wolves. Which isn't that far from the truth there, since everybody has a few dogs and they all run wild over 13 acres. My dog, Duke, loved it. I think he's a little mad we brought him home.

The coffee sucked. Instant. With whitener instead of milk. I usually wandered over to my Mom's trailer in the morning and stole coffee while nobody was looking. Don't tell.

They are in the process of moving their business,
Home Tweet Home
, from Edmonton to Whitecourt, so there was a lot of birdhouses hanging around. I'll be making one of my own this year. The stone church. If anyone wants to buy a birdhouse kit, email me. I'll hook you up.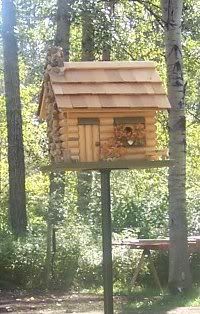 Random cute kid photos: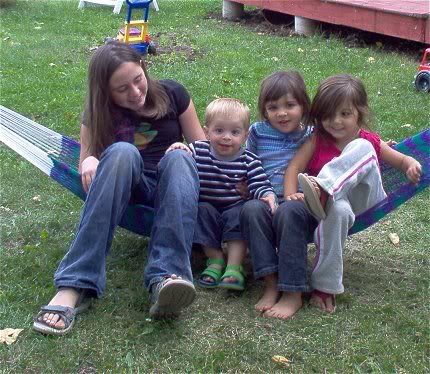 (the other 2 are my niece and nephew)




There are none of my husband, because now that he's supposed to be all secret army, I can't show his pic anymore. At least not without a black line across his face, and why bother showing him off then. He has very pretty eyes. And, there are no photos of me. Because, well, I had the camera.

More later. Today is the Jr. Kindergarten open house for Little Brat, and 1st day of school for Big Brat.