The Honeywagon Adventure
Ya'll know what a honeywagon is, right? The poop pumper? And other various disgusting names that all mean a tanker truck that empties septic tanks for a fee. Right.
Keep in mind, folks, that I am a city gal. Always was. Always had a sewer pipe attached to my toilets. Until this house. In which the toilets are attached to my backyard. And a large underground tank that collects all the various waste.
Aren't ya glad you stopped to read HERE today?
So, my adventure started a few weeks ago when I called to book a day to have my poop pumped. The nice lady on the phone said "How's Friday the 13th? Is that day OK for you?" Really? Friday the 13th? Friday the 13th? That's the day you want to come and stick a large hose in a big hole in my backyard, where my kids play, and pump 3 years worth of human waste? Really? (Red flags popping up everywhere, sirens, flashing lights, ABORT ABORT). Sure, that day sounds fine.
She then proceeded to tell me where to dig to find the cover. What??? Dig? ME? Don't THEY do that? What the hell????
A few days ago, I started digging. I used the markers, in the form of white bricks, that were left by the previous owner of the house to mark where to dig. I have come to the conclusion that the previous owner is an asshole. Because the lid wasn't there. But I now had THIS hole.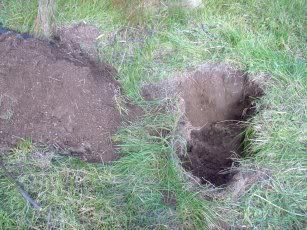 And this little plastic toy sheep. Not exactly burried treasure, but it's better than a punch in the face.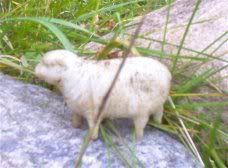 So, I called the nice poop lady back and had her tell me where she thought I should dig. She asked me where the poop pipe comes out ofthe house. Um....from the basement. She said I should see it where it comes out of the house. What? It's underground. I'm supposed to see that? With my x-ray eyes? No, I can't see it. So, I have to measure fom the spider infested wall of my basement, to the spider encrusted poop pipe. Then add a few feet for the GIANT stone foundation. Then go outside and find the right spot. She said it would be no more than 5 feet from the house and no more than a foot down. Easy as pie, right?
I start digging. And hit something. I think 'yay, I found it!' but, I am wrong. I have found a brick. What kind of a moron burries a brick? So, I get Little Brat's little plastic garden shovel and dig around the brick until I can get it out. And continue to dig. And hit another damn brick. And another and another.
Let's forget the fact that I can barely dig through grass, let alone hundred year old bricks. Who the HELL burries a PILE of bricks????? What kind of sick, twisted person does that? Was it done in anticpation of a weak little housewife, a century in the future, trying in vain to dig through them? Because that's sick.
And I was obviously in the wrong spot. Knowing that the marked spot was wrong, and the measured spot was wrong, and it was dark and raining and I was covered in mud....well, I panicked. I called in a backup husband. He was actually a loaner from a friend. She brought him right over to me. So we could drink coffee in the nice warm house while the loaner husband dug up half my backyard looking for the damn spetic tank lid. Loaner heroes are good, too.
And so then I had THIS hole.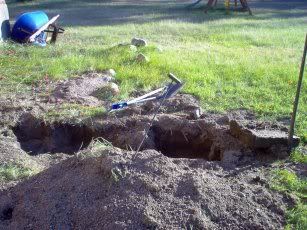 So, the lid was found. Harvey the poop pumper came this morning. Nice guy. Kinda big, but I think that's probably a little like a safety line in his line of work. Ya know. In case he falls. He won't fall in. He was interested in talking about crochet patterns, too. While he was pushing the poop around with big poop pushing poles.
You didn't HAVE to keep reading, you know. Don't blame me if you're grossed out.
The smell, people. The smell was insane. And Harvey MUST be a little insane for smelling that all day.
And as Harvey drove the honeywagon away, on this glorious Friday the 13th, all I could think was "Nice man. Bad job. I sure hope that cap at the back of the truck is on tight."
And if THAT little adventure didn't go horribly wrong today, maybe it won't be so unlucky afterall.