NaBloPoMo Post 2
Well....since Lorraine decided to rub in the fact that she cannot participate in NaBloPoMo due to an upcoming visit to Disneyworld, I'm SURE not knowing that Disneyland is my favoritest place on the whole entire planet....no, the UNIVERSE, and that I have a poster of Walt on my office wall.....well, I have decided to show a wonderful and nostalgic photo of me (and my sisters, the hangers-on) in Disneyland.
I think it was 1982 or 1983. Somewhere around there. The 80's were really all a blur of hot pink clothes, jelly bracelets and bad moustaches.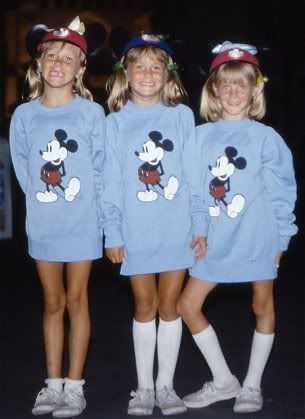 I'm the one in the middle with the Mickey Mouse ears. NOT the Minnie ears. Did I ever tell ya'll how my dad wanted a boy? But got three girls all in one shot instead? And that my mom then had her tubes tied? So I grew up learning how to change the oil on vintage Corvettes and wearing Mickey Mouse hats while my sisters could flit off and be girls? No. Oh. Well, it happened. No bitterness, though.
I WAS the only one of us three that was allowed to drive the '61 'Vette later on. Because I had worked on it with him. Ha ha. Suckers. Hope your Pink hats were enough to console you.