NaBloPoMo Post 21
I got one of these for my birthday: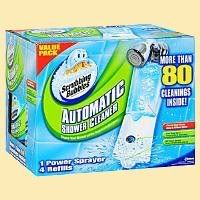 It TOtallY rocks. It's like having your very own cleaning lady living in your shower. An ugly one that doesn't hit on your husband.
I do have a cautionary note, however. One that is not listed on the package or in the directions. Perhaps they should add it. Ok, listen up:
No matter how curious you are, no matter HOW MUCH you want to see it working, don't, DO NOT, slide the shower door open just a teensy weensy bit and peek in to watch it work.
It WILL spray you right in the eye.
Twice.