NaBloPoMo Post 3 ~ Inspirational Message?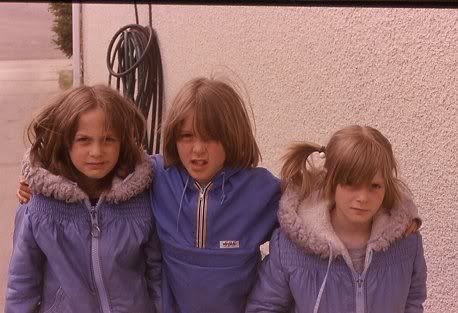 I'm not sure what bug flew up our butts, but MAN do we ever look pissed. That's me on the left. It seems that, at that point, I was still taller than Sister3. I don't recall that. I thought that I was always the shortest. Ironic, since I am also the oldest. And, while that cheers up my day somewhat, I also need to remember that I am the shortest now. And that with the ever advancing years, I will probably continue to get shorter.
I think I will use this opportunity to tell ya'll why I am OK with being short. It's a very moving and inspirational story, so you may want to grab a hanky now. I'll wait......
So, it all started in Kindergarten. Our backyard gate was right by the crosswalk that we used to walk to school. And there was always a crossing guard there. The guards were always fellow students from our school.
And I worshipped them. I wanted to BE a crossing guard.
But, the rule was that a student needed to be in at least grade 5 to be a guard. So I waited. All through kindergarten, grade 1, 2, 3.....well, you get the point. I showed a tremendous amount of patience for a kid that age. Or a grown-up, for that matter.
Then the big day came. I was in grade 5. The announcements that morning said that if any grade fives wanted to be crossing guards, to meet in a certain classroom at lunchtime. I was so excited. All of my dreams and ambitions were finally within reach.
As I walked through the doorway of that classroom at lunchtime, the teacher in charge of the guards took one look at me and said, "You can't be a crossing guard. You're TOO SHORT."
I was crushed. CRUSHED.
But I'll tell ya'll something. I have never, EVER, been too short for anything else I've wanted since then. I won't allow it. It's not a disease, and it's not crippling. It's just a feature. I'm short, not incapable. And that's why man invented step stools. And also why I (allegedly) married a tall man. (Well, he has other features, too.) (Allegedly.)
Besides....I'm cute as a button.
So, there ya go. Very inspiring, yes? Feel free to use it as a bedtime story for your kids if they are stumpy like me. I mean, er, undertall.